Spectating At The Boulder Cup
Sunday was my first time spectating at a major cyclocross race. A friend and I headed up to Boulder from Colorado Springs to hit the afternoon races, including the elite men and women.
It was a gorgeous fall day in beautiful Boulder, Colorado, and we were ready to experience the excitement of all things cyclocross at the Valmont Bike Park.
First we found a place to park, which was easy to do because of the abundance of signage and volunteers pointing us in the right direction.
Then we walked about a third of a mile to get to the park entrance and expo. First stop was the port-o-potty (90 minute drive from Colorado Springs plus hydration after a morning bike ride = find the bathroom now!). Bonus for it being right at where we entered and clean.
Next up was just getting a lay of the land. We arrived right at the start of the Men's 35+ open race and saw them screaming around the corner. Thank goodness for barricades!
We wandered around a bit, checked out the 5280′ Run-Pp (the huge staircase) and the beer garden was set up right next to it. The course wrapped around the park, went up some steep hills, down some steep hills, had a couple of sand pits, the stairs, and some really fast sections on flat dirt and sidewalk.
Now it was time to eat. While I didn't go for the whole turkey leg, I did get a cheese quesadilla with bacon and green chilies. Not exactly health food, but I was definitely hungry from my ride earlier in the morning!
While in line we chatted with the gal behind us, Savannah Adams, who podiumed earlier in the morning in the women's cat 4 race. She told me to race next year so there would be even more competition. Love it! I just might be there!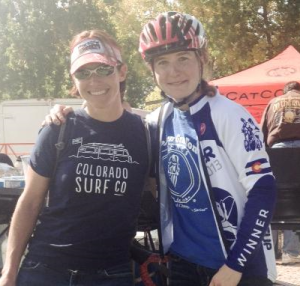 While consuming my lunch, we walked over to the Osmo Nutrition tent, as Jill had never tried it. Had a good chat with Terry. We got to sample one of their new products specifically formulated for women. I'm a fan of Osmo and used it during the Boulder Peak and Boulder 70.3. I look forward to testing out this new line.
Then at 2pm there was a memorial lap for fallen racer Amy Dombroski. The cyclocross and cycling community were deeply saddened by the tragic loss of her life earlier this month. But her spirit was definitely present.
On a cheerier note, the junior races started and boy, these kids are tough. First, cyclocross is more than just riding a bike. It's riding on grass, dirts, hills (everything a kid loves, right?!). There are skills involved, including mounting and dismounting and carrying your bike up the stairs.
Watching these kids race was something else! They fell, as did the adults. They got back up, as did the adults. A few cried, and I think perhaps a few adults wanted to as well. One girl who took a spill at the top of a hill cried as she went around, but she kept pedaling like there was no tomorrow. Adults take note. Sometimes racing is hard and you want to throw in the towel, but you hammer on.
Then I met up with cycling writer Mary Topping. We met via twitter, and she covered an athlete I've worked with in the past, Steven Thompson. Steve's also my strength coach. So it was great to finally meet her in person and chat briefly before she went off to work to cover the elite races.
Now, time for the elite races. Women go first. It was an all-star line-up with Katie Compton, Meredith Miller, Katie Antonneau, Chloe Woodruff, and Nicole Duke, and others. Local Colorado Springs up-and-comer Laurel Rathbun was also racing. Katie Compton quickly rode away from the competition, Chloe Woodruff had a clean 2nd, and it was fantastic watching Meredith Miller fight and sprint for third.
The men's race was exciting as well. There were several lead changes in the front group over the course of the race, but Jeremy Powers pulled it off. My coach was in there as well, though he's had better days of racing.
While I mainly went to soak up the Boulder cyclocross atmosphere, being there did remind me of a few things. These tips are certainly applicable in racing and in life. They are not new insights, but it doesn't hurt to hear them every so often.
Don't let fear get in the way. These courses are not easy and the races are somewhere between 30 to 60 minutes of "pain." But if a ten year old can ride the same course the pros ride, what's stopping you?
Get the family involved. Being active is fun. Balance competition and pushing yourself to new limits with just staying fit and share it with the ones you love. There were lots of families out there!
Cheer loudly and always more cowbell! The racers might have been suffering, but the crowd was loud and enthusiastic. Be that fan. The athletes appreciate it!
Give 100%. You might fall. You might have a mechanical. Your legs might feel like crud. But don't give up. If you get pulled (which happens to the best of 'em on some days) you leave knowing you gave it all you got.
I'll leave you with a few more pictures and a video of Katie Compton well in the lead.
Photo Gallery

Find more videos like this on Pikes Peak Sports