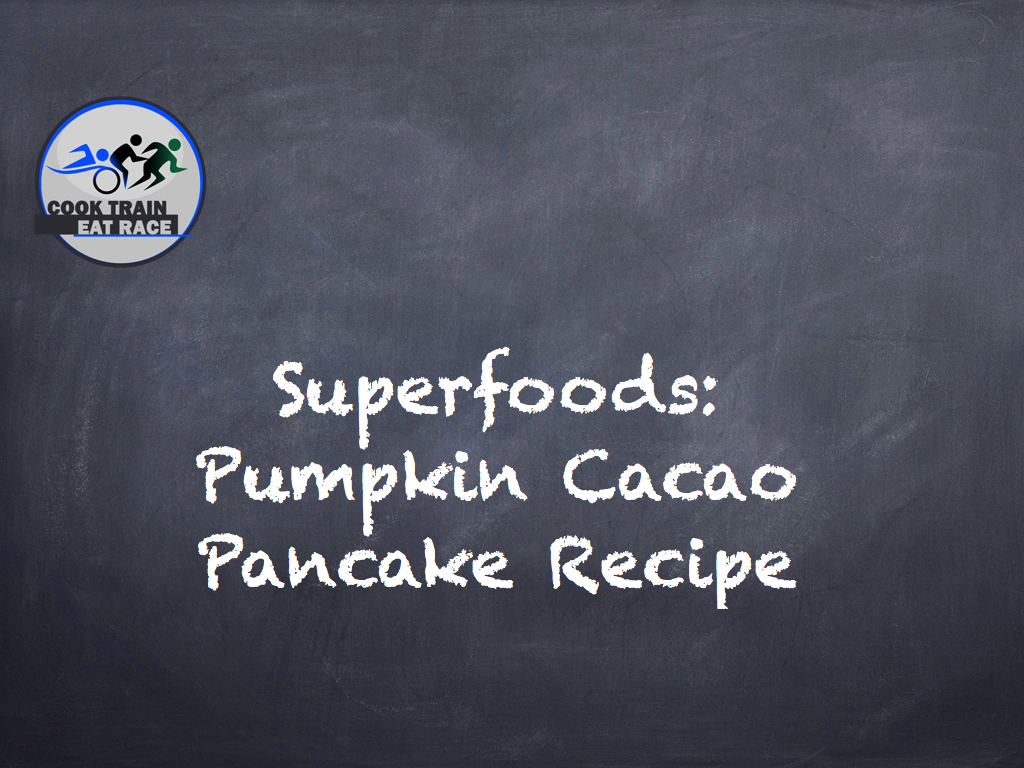 Jul
19
2013
Cacao – My Kind Of Superfood
Superfoods are what we are talking about this month on NEO Endurance and I have to be honest and tell you that I had no clue what a superfood was when I first heard the terminology.  If you ask me popcorn is a superfood.  Why?  Well it is low in calories, provides tons of fiber and complex carbohydrates.  It lacks in protein and healthy fat but hey we can't have it all can we?  Or can we?
Superfoods have become synonymous with healthy eating.  Flip open your laptop and go to any healthy living website and you are sure to find one or 100 articles about superfoods.  As a matter of fact if you use Google and type in superfoods and go to Wikipedia this is what you will find in the first two paragraphs:
Superfood is a term used in various contexts. For example, it is sometimes used to describe food with high nutrient or phytochemical content that may confer health benefits, with few properties considered to be negative, such as being high in saturated fats or in the case of processed products: artificial ingredients, food additives or contaminants.
The term is not in common use by dietitians and nutrition scientists, many of whom dispute that particular foodstuffs have the health benefits often claimed by advocates of particular superfoods.[2] There is no legal definition of the term and it has been alleged that this has led to it being misleadingly used as a marketingtool.[3]
So can you blame me for being confused about said word: superfood.  Well I am no different than anybody else and the more I read about these ingredients the more I incorporated them into my diet.  I didn't think of one food as being the best but a combination of these foods as representing a well balanced meal to help fuel my active lifestyle.
One day while at Sprout's Farmers Market I saw a bar by Ghirardelli that said 100% cacao.  I thought about it and decided that the $3 spend was worth it.  What I came to find out was that I loved the bitterness of cacao more so than the sweetness of milk chocolate or even dark chocolate.  I figured I could do a lot with this bar and I have.  I have incorporated it into just about anything you can imagine from a baked goods perspective or even with fruit.  Today I am going to share with you one of my latest creations of pumpkin cacao pancakes.
About a month ago I participated in a #WaffleWarsChallenge and loved every last waffle I made but I got tired of making waffles and have gone on a pancake kick lately.  There isn't much difference between batters but with my wife and I having sold a house and bought a new house I needed to make these recipes simpler than normal and use up what I had in the house so we didn't have to pay to move it or risk it going bad.  That is where the pumpkin cacao pancakes came in.
This recipe is very simple and can be converted to vegan by substituting a banana, applesauce or flax egg for the egg whites that I use. If you are as confused as I was in regards to superfoods then I suggest you start with this recipe as nobody can object to chocolate, even if it is a bit more bitter than you are used to.
Does It Get Any Better Than Pumpkin Cacao Pancakes?
Perfect for breakfast, lunch, dinner, brunch, brinner or just because!
Pumpkin Cacao Pancakes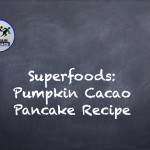 By Jason Bahamundi Published: July 19, 2013
Yield:

6 Pancakes (1 Servings)

Prep:

15 mins

Cook:

25 mins

Ready In:

40 mins
Looking for a simple yet tasty was to incorporate a superfood into your diet? Look no further than pumpkin cacao pancakes. Easy to make yet taste great too!
Ingredients
Instructions
In a blender (or bowl) combine all the ingredients, except for the cacao, until a batter is formed. Batter should be somewhat thick but spreadable.

Once batter is formed chop up 2 sections of the cacao bar and combine into batter using a spoon.

Pre-heat griddle and melt coconut oil. Allow griddle to get hot. Approximately 1-2 minutes over high heat and then turn down to medium-low.

Once griddle is prepared pour out batter (approximately 2 Tbsp per pancake) and cook on one side WITHOUT TOUCHING until steam bubbles form and edges are starting to look dried out. This should take approximately 3-5 minutes.

Flip pancakes over and then press down and cook on second side for 3-5 minutes until golden brown.

Plate your pancakes and then chop up the last section and pour over top of the pancake stack. Add some fruit like a sliced banana or orange wedges and serve!