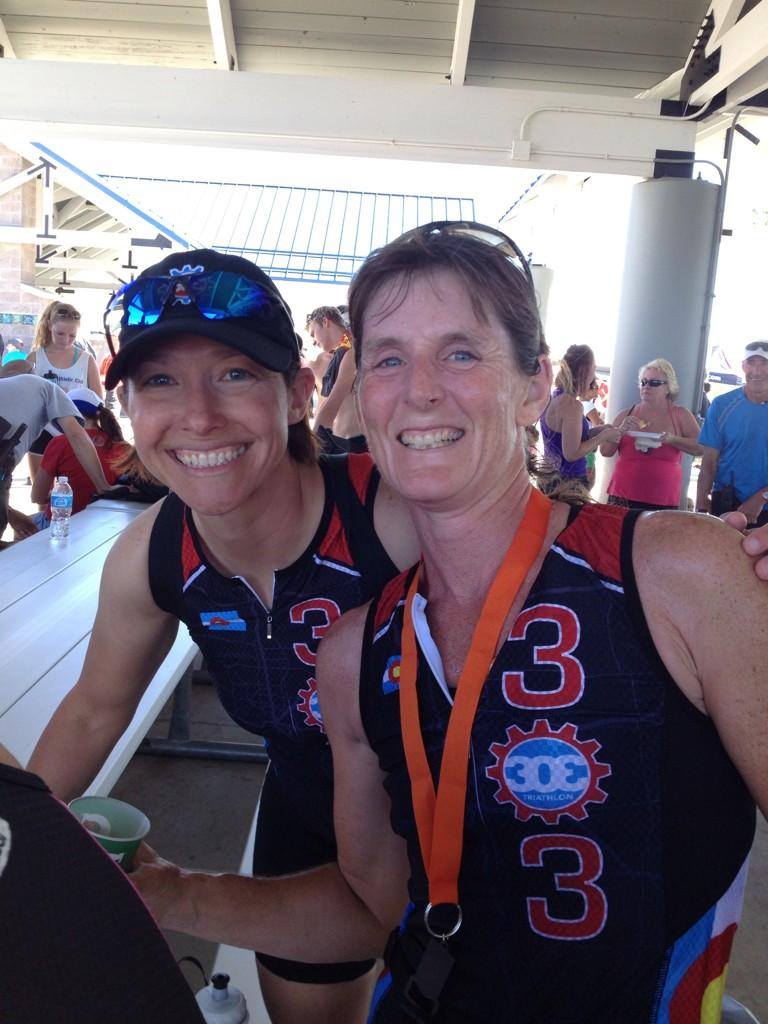 Aug
18
2014
YOLO Olympic Triathlon Relay Race Report
This past weekend I had the opportunity to race the inaugural YOLO triathlon on a team representing 303triathlon.com. …
I don't think many people like getting up at 3:45am. But I was looking forward to it this time because I was about to race in my "comeback" race that included a bike! I've done swimming races and the swim leg of a triathlon back in June, but YOLO would be my first race that included the bike.
The night before the race I had a standard pre-race meal of salmon and brown rice with a few veggies. I then packed up as much as I could, put my drink powder into bottles so all I needed to do was add water, and I made sure my bike was in the car. Race day was going to start early so I didn't want to forget anything simply due to o-dark-thirty sleep walking mode.
Race morning went as planned. The alarm went off at 3:45, I took a quick shower to loosen up the muscles a bit. I wasn't too stiff or sore in my back or hips, which was good. I rode a bit hard on Saturday morning so I didn't know what to expect!
At 4:20 I was out the door, driving to Aurora, and eating my banana and peanut butter about half way there. With no traffic it's a fairly quick trip, under an hour. At 5:10 I was in line of cars waiting for the gate to open to the park. It seemed like a long time because I had to pee, but was probably really less than 10 minutes, but a ranger showed up, opened the gate, and we were moving to get into the park.
I parked, got my stuff out of the car, and walked over to transition area. Stop 1, porto-potty. Stop 2, packet pickup. Race number and timing chip in hand (on ankle), I went over to transition to find a spot. Jen, my relay partner, found me a short bit later. We were body marked, and had plenty of time to get a lay of the land.
I was on my road bike because my hips aren't ready for the more aggressive TT bike position. I wanted to put my race wheels on it, but by the time I got home Saturday afternoon, I was too tired to mess with swapping out brake pads and such.
Once I was all set up and it was getting closer to race start, Jen and I walked to the beach. We started running into a lot of people we knew, and it was a nice, relaxed vibe. I then squeezed into my wetsuit and got in a quick warm-up swim.
The swim start was delayed (and I wrote a lot about the details in 303Triathlon's report so I won't go in to that here.) While waiting for the start it was time to get in the zone, as well as figure out where the buoys were. I started in a small pack in the "comfort and relay" wave. It was really hard to see where we were going, and following people isn't always good. But eventually I found the turn buoy. As I approached it, I got caught behind a group of people from the wave in front of mine – the purple caps. They slowed me down a bit because I couldn't easily go around them. Once we were around the buoy, I had to swim through a pack of more purple caps.
At least sighting in this direction was a little easier, and I got back to the beach. Jen was there cheering, and off I went for another lap. It really wasn't any easier to sight this time, but I took a closer line to the outer turn buoy, at least on approach this time.
So this last 25% of the swim I just wanted good space and a clean line to the finish. I think I got it and was able to increase my effort just a bit heading into the finish.
Swim: 35:19 (46/134) TrainingPeaks File
After the swim I made my way to transition, which was up a small hill, with a steep kicker right before the lot. I quickly found my bike and tried to take my wetsuit off. But because I didn't want to chance straining my hips, I didn't do the step and yank method. I lost a few seconds here trying to get the suit off my ankle, and then doing that I knocked my helmet and glasses off my bike. Definitely a klutzy T1, but I hadn't practiced. Triathletes make note – this is why you practice transitions!
I got my shoes on (no socks), picked up my helmet and put it on, and had to lean over and grab my glasses that were on the ground under the bike next to mine. Once I got those, I headed to the mount line and I was off.
T1: 3:19
Now the bike – my favorite! This course has about 1200ft of climbing in the 25 miles. It's rollers and some of them are kind of long. It's been about 4.5 months since my second hip surgery, so I'm just glad to be able to go on normal rides. I'm not pain free, but it's come a long way. I've also had to start a medication that has lowered my max heart rate. I'm hoping this side effect goes away, but in the meantime, it's not letting me hold the harder efforts for very long.
My goal for this was to ride a little harder than the base rides I have been doing. I knew I couldn't afford to get caught up in race mentality early, as I would just crush my legs. But once a competitor, always a competitor. For the most part I stuck to my plan and kept my heart rate under control. The last few miles were mostly uphill, so I just stuck to my steady pedaling plan. I leap-frogged a few people on TT bikes (aero is huge on those downhills) by catching them on the uphill.
I came back into transition to some people cheering so I gave a couple fist pumps to get a few extra cheers. The Barrys were out there (Tim is a Team NEO athlete) cheering, and Dana of 303Triathlon.com was right there with her camera. Can't wait to see what those pictures look like!
Bike: 1:29:37 (50/131) TrainingPeaks File  AP: 138W, NP: 145W (VI 1.05). average cadence 94rpm.
I handed off the chip to my 303Triathlon team mate Jen, and she went off and ran a 47 minute 10k. We came in 5/10 in the Olympic Team standings, which we'll definitely take for a fun race!
After the race I sought out ice for my hips, as I had a little trouble walking. Muscles I didn't know I had were tightening up. The ice and a short post-race massage did the trick. I hung out for the awards, cheering on all the athletes and then made it home for some FroYo with my brother and nephew.
I can't be anything but happy with this race result. This is actually the first time my swim ranking was higher than my bike. I suppose that's what spending a lot of time in the pool during these many months of rehab will do. And I still have some healing and work to do on my bike fitness. I'm being patient with my run training and haven't really started that back up yet unless you count coaching a high school cross country team.
On a more personal note, the YOLO race definitely had some significance to me. I've talked about my hip surgeries on this site, but not another issue I've been dealing with. YOLO might be a "trendy" name right now, and I've always believed you have to enjoy life. For me it's even more important, as not only have I had my training set back with the two hip surgeries this past year, I was diagnosed with multiple sclerosis in May. It's not affecting my work, daily activities, or training (except the little max heart rate issue from the medication) but you never know what tomorrow might bring. Enjoy today with a healthy respect for the future. You do only live once.