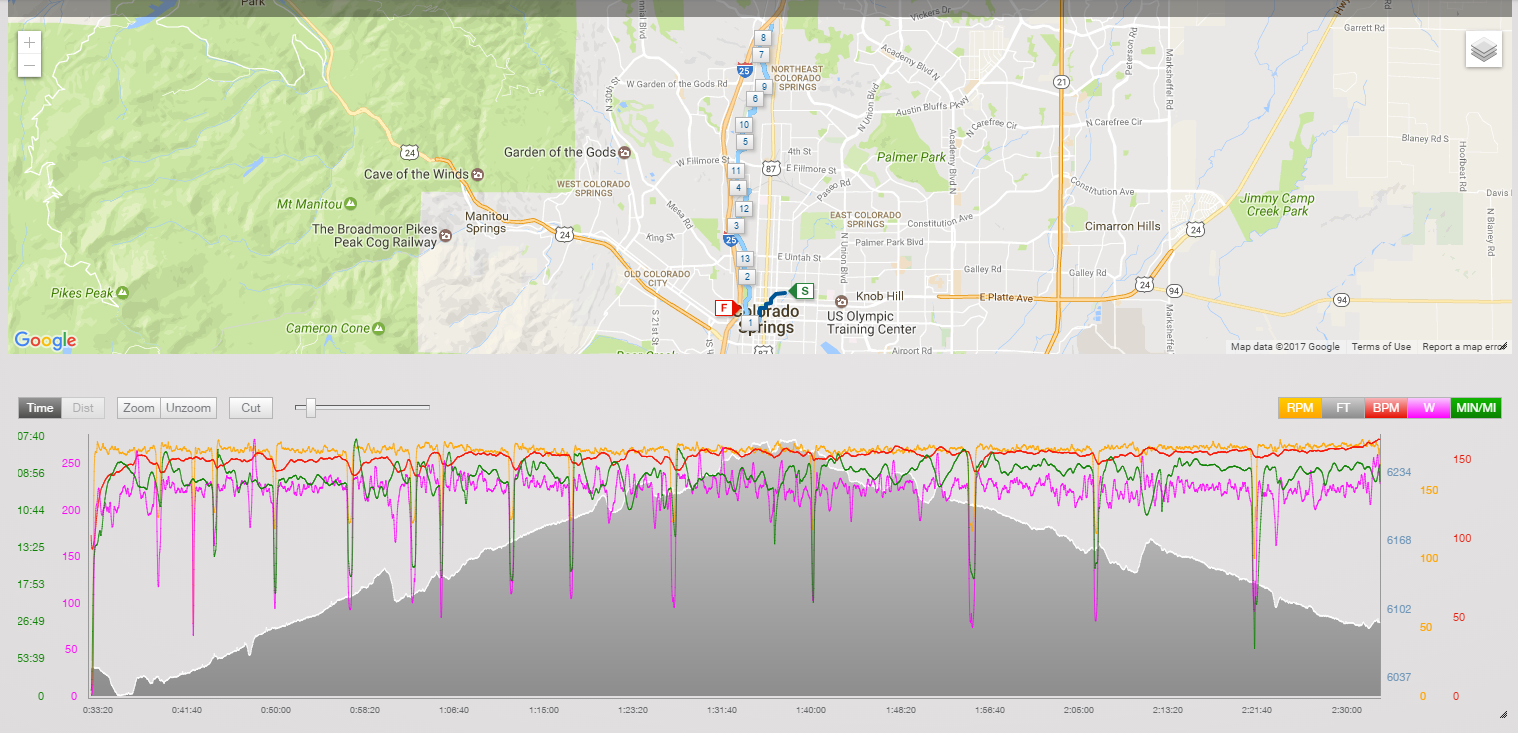 Feb
06
2017
2017 Super Half Marathon Race Report
Super Bowl Sunday is the Super Half Marathon and Game Day 5k in Colorado Springs. I have some history with this event, running the 13.1 in 2012 (its first year), 2013, 2016, and 2017. In 2014 I volunteered in well-below freezing temps and in 2015 I ran the 5k.
This is a local race that I'll keep running year after year. Here's why:
Here's how the race went down for Coach Nicole
I live about a mile from the start so it makes for a perfect easy warm-up. The start time was 10am, which meant I could get plenty of sleep and not feel rushed in the morning!
The night before I made sure to have my goals reviewed, routine planned out, and my nutrition and hydration set out ready for the final preparations. Race morning I went through my routine with no issues. I got up around 7am, had breakfast and did some light foam rolling and stretching. A little before 9am I took my dog for a short walk and then got ready to go. I also made sure to do my pre-run hip mobility sequence!
Breakfast was oatmeal with whey protein, half a banana, and peanut butter. Before I left my house as I was doing the hip mobility, I had a scoop of cocoa UCAN in about 10oz of water.
At 9:30am it was time to head out! I jogged over to the start area, went inside the Plaza of the Rockies (so nice to have indoor check-in!), said hi to quite a few people, dropped off my clothes at the sweat check, and headed to the start line. I picked up my bib the day before, so I was all ready to go.
My Goals and Plan
Every race needs a goal, so my "I'll kick ass if I get this" goal was 2:00:00. Power-wise with the Stryd it'd be about 220W. The other goals were to enjoy running with so many friendly faces on a great day, and beat last year's time of 2:12. My all time best was 1:50 and change in 2012, but that was pre-hip surgeries and MS medication!
I would let the Stryd power and my breathing be my guide. I would take 20-30s walk breaks every 5min or so. My strategy: watch the power to keep it steady, take in water at the aid stations, steadily drink the bottle of Skratch I carried with me. At the turn-around I would have a gel, and then take Gatorade, if needed, on the 2nd half.
I haven't run 13 miles since my half-ironman last June (and I walked a lot of that!) My longest runs have been in the winter and fall series out on hilly trails, so about 90 minutes of hard trail running. The Super Half was certainly going to test me!
The Course
I'm quite familiar with the course, so I knew what to expect. Gradual uphill, but not insignificant for the first half, back down on the second. It doesn't finish where it starts, so the turnaround is a little bit past the halfway point. The weather was phenomenal for running so no weather concerns.
Running the Race
It's a crowd to start, so I just settled in finding my space on the road and then the trail and let the initial downhill get my legs turning. Then I settled in to 220W power and took walk breaks every few minutes for the first half. Turns out I didn't walk as much in the 2nd half, but was able to keep power steady. (I'm not sure I can set up timed beeps in the Stryd Connect IQ app like you can in the regular Garmin settings.) My legs were a little tight to start, and they didn't really loosen up that much, but I didn't let it get to me, as my breathing was under control and I was holding power.

One mile at a time until the turn around. As I was getting closer to the turnaround, I could tell I needed the calories I had planned for, so I got the peanut butter Gu ready and had it at the aid station shortly after the turn around, around mile 7.
I was holding pretty steady power, sometimes maybe a little too high, so I questioned if I could maintain that. I knew based on my breathing that I was right on the edge of going too hard, but was still able to talk a bit (but I didn't want to!). My legs were also feeling the pounding on the concrete of the path.
I was slowly catching people here and there, and that felt good. The trip to the finish line was tough. Being mostly downhill, I was able to use gravity to help me pick up the pace. Now I could count down the miles, so it just became a conversation with myself, "Can I hold this for X more minutes?" (the answer was yes!).
About 1.5 miles from the finish there was the last aid station to walk through. I took a small bit of Gatorade, and then I saw the donuts. A volunteer had a box of donuts in his hands and somehow convinced me to take one. I don't really recommend this, but I did it anyway. (But remember, it is OK to eat the donut.) I took a few bites and kept running. I really wanted to save it for after the race, but also didn't want to run over a mile with a donut. So I hope a squirrel or two enjoyed it!
The last half mile I hurried! I just wanted to get to that finish line. My legs were toast and my breathing was now audible. I had to give it all I had left and saw the clock at a few seconds over 2:00:00. With 2:00:00 being my goal, I was stoked to be so close, and would have to see what the actual chip time was.
1:59:59!!!
Here is the lap data captured by Stryd, showing I was able to keep things pretty consistent. Lap #1 is the warm-up to get to the race start.
I didn't hang out very long at the finish line. Just enough to get a quick snack and say hi to more friends. I picked up my clothes from the sweat check and then hobbled on home as everything kind of hurt! (Not in a bad way, just in the I ran pretty hard for 2 hours kind of way.)