Sep
05
2016
What's Your Weakness?
When you are reviewing your strengths in your sport, as we talked about in the previous post, you also have the opportunity to think about areas for improvement.
These areas for improvement are often what we structure our training around. You may have heard the phrase "train your weakness, race your strength." In order to have your best race possible, as you are setting up your goals (well in advance of the race), it's critical to review what needs to get better.
Think about all aspects of your event: fitness, mental strength, the ins-and-outs of the event itself.
If things went wrong during training or a race, what was it?  Where would you like to see yourself do better?
Be careful here, it's often easy to create a long list of things to improve. It's OK to write them all down, but then just pick the top three that are most critical or most important to you for your season
As with strengths, there are ways to use analysis of training and racing data to identify some areas to improvement, but we can discuss that at another time. A thorough review of training notes and race reports can help you pick out the things that working on will benefit you most.
This is just a piece of my race goal setting system that you can use to focus your training and performance for your next race.
You can get it for free right here: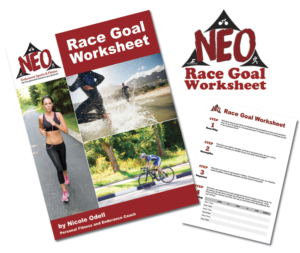 How do you identify your weakness? Please share in the comments below.