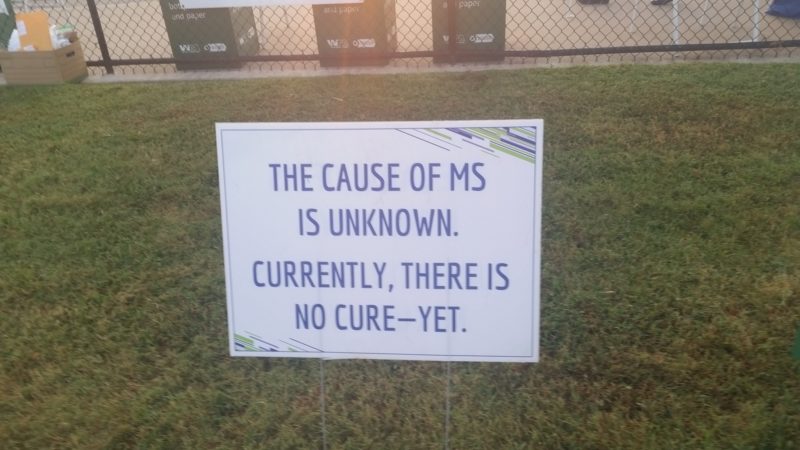 Sep
08
2016
Trifest for MS Volunteer Report
Labor Day Weekend. I got in my car early Friday morning and made my way to Bentonville, Arkansas. It's not the most exciting drive, I-70 all the way across Kansas, but there was some end goal motivation. I was headed to the Trifest for MS, a 2-day, four race triathlon festival that benefits the Rampy MS Research Foundation, which in turns provides funding to the Multiple Sclerosis research department at the University of Arkansas for Medical Sciences.
The quick backstory… In June of 2014 I was at the Kansas 70.3 supporting a slew of Colorado athletes racing there. I was unable to race that year due to hip surgery, but had done the race a few times before, most recently in 2013. As I'm at the swim start, I see a whole group of people in these vibrant race kits, and Team Endurance for MS. It was very clear these people were racing to support something to do with multiple sclerosis, and I had just been formally diagnosed one month prior. So of course I found their team tent and started talking to them.
I met Scott and Jo Rampy, the founders of the Rampy MS Research Foundation. Jo has MS, they love triathlon, so have an endurance team AND turns out, their own event held Labor Day weekend to raise money for their foundation. Even better was that they had a virtual registration, so I could register and just get in the distances on my own. So in 2014 and 2015, that's what I did. In 2016, my hips were good to go and I was doing well so I signed up for the Trifesta – all three adult races over two days. A sprint, super-sprint, and Olympic distance race. But with my broken elbow, I wasn't able to race, but still wanted to support them anyway, so I drove to Arkansas for the weekend.
Saturday: Scott had arranged a homestay for me, which was great. Rick and Kristi were the bike and run course coordinators for the event. It was super to have a comfortable place to stay and they were at the event as well.
The weekend was certainly exhausting, but worth it. I had signed up to work the finish line for the Sprint race Saturday morning. The race was held at the Melvin Ford Aquatic Center, and I got there a little early so I could also pick up my packet (might as well get the stuff since I was registered. And we certainly got some cool things, including a full 16oz jar of peanut butter from a local manufacturer!) I also wanted to soak up the race environment a little. The swim was in their outdoor pool, and was a snake swim with athletes self seeded by speed.
Once the race started I went over to the finish chute, met the other volunteers, and we got ready to work. For the next couple hours, I handed out water, cold towels, and grabbed timing chips from the finishers. There was also a 5k that started early.)
The event ran smoothly, and the weather was actually pretty mild making it not too bad standing out on the asphalt at the finish line for a few hours! There was plenty of food and beverages for volunteers and athletes, the awards were done under a tent and the podium was up on the stage. Merchandise was available for sale, there was from the Ninja Narwhal Coffee Company. (That name and logo cracked me up, so I had to get a shirt!) The event also had a silent auction with a lot of good stuff.
All the races had a paratriathlete division, even the kids race. This was great! As some people with MS have mobility issues, they could participate in that division. The kids race had 15 para-athletes…I'll talk about that in a bit.
After the first race was wrapped up, things were packed up as the pool opened to the public, and the next race, the Super Sprint, didn't start until late afternoon. I visited with the Rampys at their house for a little bit and then checked out downtown Bentonville. The home of Wal-Mart! The scene is actually pretty hip – I had lunch at the Pressroom, then went for a run/walk on some of the trails and paths to the Crystal Bridges museum, a modern art museum. I took a quick walk through there, then finished up my run back downtown and had a cold coffee drink at the Onyx Coffee Lab. I had originally planned on a nap, but there was no time for that before heading back to the race site.
Once again, it was like race morning but race afternoon. A good group of athletes of all ages (around 200) were participating in the Super Sprint (200m swim, 4.7mi bike, 1mi run). For this one I worked transition, helping the bike in and out, and then bike check-out once the race was over.
What was cool is that Jo Rampy participated in the paratri relay for the bike leg. Here's a video of her leaving T1.
Once the race site was packed up for the night, I had dinner with the Rampys at the Thai Kitchen.
It was close to 9:30 by the time we finished dinner. It was a long day and we were all tired, and tomorrow was another early start. I was signed up for Body Marking, and that meant showing up at 4:45am.
Sunday: The Olympic race has a unique format – 800m swim, ~20k bike, 5k run, then 700m swim, ~20k bike, 5k run. F1 format. It was another great day for a race. What was cool was seeing all the Trifesta athletes out there – they have 2 shorter races under their belt and were back for one more. I found my way to the body marking tent, as well as more coffee! We got the athletes marked up, and then I watched the pro race start.
I didn't have an assignment after this, but help was needed on the run course, so I hung out at the intersection guiding runners along. There were a couple of us there, so I got to meet some of the people who were dedicated to this event. Once this race was over and awards were done, I grabbed a bite to eat at "Oven and Tap" (where you can get pizza and beer…go figure! 🙂 ) and then went back to Rick & Kristi's to chill and put my feet up for a bit.
At 4:30 it was back to the race venue for the kids race. This was fantastic. There was the range of really young first timers doing it for fun on whatever bike they have, and the more experienced kids with tri kits and road bikes. Everyone seemed to be having fun. I was stationed on the bike course directing kids where to go. The younger ones did 1 loop and the older did two. The turn to get the second loop was a bit hard to see.
What was really cool was the paratriathlete divisions for the kids. These kids participated in a training series so they were ready. These kids face more challenges in life than most of us, so seeing them out there having a ball being active was awesome.
After the kids' race, I helped clean up the venue by stacking chairs, peeling tape off the asphalt, moving barricades, and other exciting things. What amazed me is that many of the volunteers staying to the bitter end were athletes that completed the Trifesta. That is dedication to a cause. Once the truck was loaded I went to get some sleep before a long drive home.
The weekend was totally worth the drive. I met amazing people, supported people doing something I love as well for a great cause. I saw people pushing their limits by doing three races in one weekend. I saw adults and kids having a great time. As the money raised from this event could have an impact on my life as well, it just made sense to do.
Next year I plan to be back and hopefully bring a team with me so we can tackle that Trifesta!
In the comments below share what you did for Labor Day Weekend!