TrainingPeaks University Recap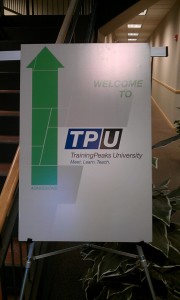 This past weekend I had the opportunity to attend the first TrainingPeaks University. This was a training session for coaches on how to better utilize the software, as well as understanding a lot of the metrics that are presented.
TrainingPeaks is quite a comprehensive solution for coaches, and because of that it's possible to miss a great feature here and there.
This is the system I use to keep track my athletes, so the better understanding I have of it, the better service I can provide.
I headed up to Boulder a little early so I could join Grant Holicky's group swim at RallySport and get a little more feedback on my stroke. (I will admit being a just little starstruck swimming with some of Boulder's really awesome triathletes and swimmers.)
To take full advantage of my time in Boulder, as TPU's kickoff wasn't until 5pm, I got in a few more fun activities. I had a post-swim breakfast from Whole Foods and got some work done in their cafe.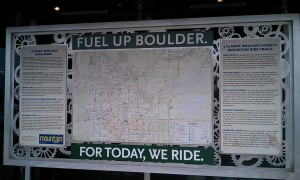 Then I made my way over to the Boulder Center for Sports Medicine and got a quick tour from Neal Henderson. There is a lot of knowledge floating around that place and it is very accessible to anyone!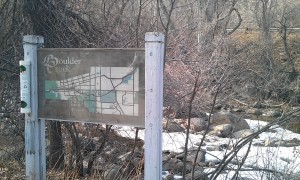 By now it was early afternoon and I needed to get in a run. I found my way over to Boulder Creek Park and got on a trail. One thing that Boulder has are a lot of well-marked paths.
Next up was heading back to RallySport, where a recovery center called the Fuelary has some space. Nothing like a quick 30 minute massage before cleaning up and heading to the TrainingPeaks University reception.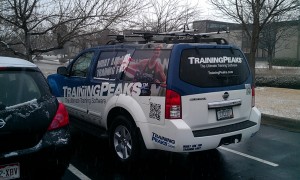 Friday evening was the meet and greet at the new TrainingPeaks headquarters, which isn't quite ready to be occupied, but enough space was finished to host about 25 coaches and TrainingPeaks staff.
What a fabulous surprise to see the weekend is to be catered by Skratch Labs. Allen Lim and Chef Biju were both there. Timmy Duggan made an appearance as well. Great way to kick off the weekend.
I stayed at a friends place not too far from TP, which was nice because the weather people were forecasting a dumping of snow late Friday night through Saturday. Fortunately it didn't materialize into the dumping. It did snow all day, but nothing stuck.
Saturday morning the learning started, and who better than Joe Friel to tell the story of how the company began. Joe's son, Dirk, is one of the co-founders, along with Gear Fisher, who helped get the technical side going.
High school teacher to running store owner to coach changing the way people thought about endurance sport coaching. It's changes and innovations that they developed that has helped turn endurance sport coaching into a real career path.
The purpose of TrainingPeaks University was not only to go into more detail on features of the software, but also best practices in order to provide better service to our athletes. I won't go into detail of everything we talked about, but there were quite a few "A-HA!" moments.
One other great thing about the University was being able to chat with other coaches from around the country to learn from them.
My brain was pretty full (and so was my belly from the great Skratch Labs meals) at the end of the day. But I was excited for Sunday, when Joe Friel would talk about advanced metrics. I hung out with my fantastic hosts and some of their friends (including another TPU attendee) to unwind a bit in the evening. The beverage from BJs was most thoroughly enjoyed.
Sunday morning we got started and four information packed hours from Joe. While I am familiar with the concepts he talked about, seeing them explained in a slightly different way one more time just makes it all sink in a little bit better.
So I left TPU on Sunday with tons of new knowledge, new connections, and an even greater desire to be the best coach I can be. Thanks, TrainingPeaks!
I will leave you with a couple photos of the snow-covered foothills of Boulder, Colorado.