Feb
22
2014
Thoughts On Being Coached
Last night I had the wonderful opportunity to speak to a group of women at the Colorado Springs Bicycle Village Ladies Night. As local female coaches, Alison Dunlap and I kicked off the presentations for the evening. Alison had an entertaining slide show of her humble beginnings and how she turned from the only female on the Colorado College cycling team (or Colorado College Cycling People) to a World Champion.
While Alison's result is rare (how many people get to be World Champion!), she didn't get there without a support team. And everyone, even if your goal is just to finish a local charity run or ride, or simply get fit, should have a support team. I spoke after Alison and thought I would share with you what I told the group of women in attendance.
I'll spare the details, but I gave a brief introduction of who I am and that my passion for helping people, learning, and continually pushing my limits is what drives me. Helping others challenge their comfort zone and achieve what they didn't think possible is why I coach.
Then I asked them why they ride.
The answers varied, but it was along what you might expect. To get outside and enjoy the outdoors, to be active and stay healthy and to see what they can accomplish. Everyone agreed that over time they do like to see if they can ride farther, or perhaps keep up with someone they couldn't previously hang with. They all wanted to see improvement over time.
We all agreed that endurance sport is a journey. It is definitely a journey of self discovery. While it can be done alone, it's usually more enjoyable and rewarding when done with others.
I think as humans we are always driven to improve ourselves, and throughout life we have people around us helping us. We have our parents, teachers, mentors at work, and in the sport world we have our coach. Then I dispelled some of the myths of being coached.
You don't have to be "elite" to have a coach.

You don't have to race to have a coach.

All you need is a commitment to self-improvement.
The coach's job is to guide you through the journey, whatever your journey might be.
There is so much information out there it can be overwhelming. A coach will synthesize the information for you and translate it for you if you need it. A coach will answer your questions and help you on your individual path. A coach will hold you accountable and give you objective opinions so you can reach your goals more quickly.
—————–
The rest of the evening Alison and I hung out at our table and talked to quite a few of the attendees as they made the rounds of the expo tables. It was a great to get to know more people in the community who like to be active.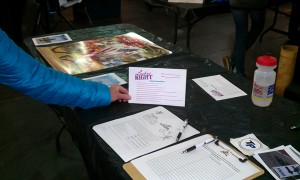 I'll leave you with a picture of some ladies thinking about getting new bikes….