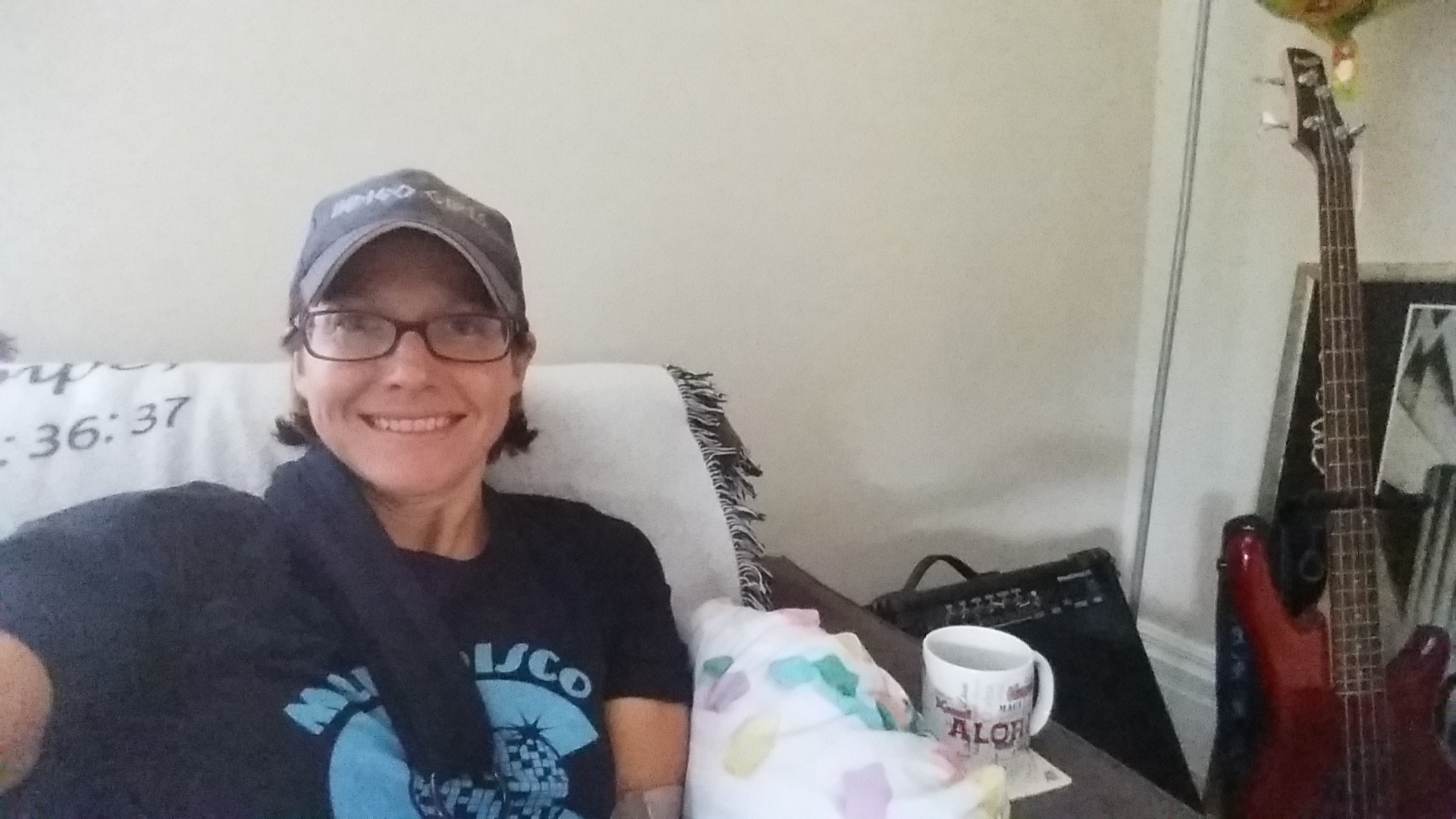 Jul
07
2016
The Tale of the Broken Elbow-Week One
It's been a week since my broken elbow was repaired after my little spill. The surgery went well. It was scheduled for noon on June 29th. As typical with surgery because I was going under general anesthetic I couldn't eat after midnight the night before. My check in time is 10:30 and I knew I was going to be hungry! I had a snack around 11 o'clock the night before tried to drink as much water as I could but probably not enough and went to bed. Fortunately I slept pretty well.
Before the surgery I took care of a few things. As it was short notice I didn't have a lot of time to prepare, unlike my hips where I had weeks to prepare. I did a little bit of shopping and then just waited for my ride to the hospital. Jan picked me up and  and we drove north. I was familiar with the process from having surgery a couple years ago so I felt somewhat relaxed, though my blood pressure would indicate otherwise.
The nurses went through the preparations and eventually the anesthesiologist came and put in nerve block into my brachial nerve, and soon thereafter I was wheeled into the operating room. This part I remember and also the surgical crew asking me what kind of music I wanted to listen to during the surgery. I really wanted to say Billy Joel (Trainwreck reference). But what I apparently decided on was 90s alternative rock like Pearl Jam and the Red Hot Chili Peppers. Fortunately I think the doctors are all within 5 to 10 years of my age so the choice wasn't too off the wall. And you know when they're going to be drilling holes in your bone and adding in hardware you want the docs to be a little motivated!
At some point after this they flipped me over so I could be face down with my arm hanging off the edge of the operating table. This way the surgeon could have clear access to my elbow. I used the same surgeon for my elbow, Dr. Huang, as I did for my hips.
The next thing I knew was that I was waking up in the recovery room. I didn't feel quite has groggy as I had with previous surgeries, but it did take a while for me to get out of that "I want to fall back asleep no I want to wake up state." The nurses were taking good care of me. Jan came in and as soon as I was awake enough I was moved to a reclining chair and then wheeled out. I wasn't as hungry after this surgery but I knew I needed to eat, so I asked for a granola bar.
The nurses went through the post-op instructions with us and Jan brought me home. I made myself comfortable on the couch, and Jan fixed me up some soup and crackers. I pretty much hung out on the couch the rest of the day until it was time to go to bed. Jan crashed on my couch for the night to make sure I didn't have any adverse affect from the anesthesia. She also helped me take care of Kimber.
Thursday was my post-op appointment. Jan drove me back to visit with the doc so they could get X-rays and see how I was doing. It took the splint off and I was walked over to the X-ray room. The tech wanted me to straighten my arm and that wasn't going to happen. Even though I was taking the higher dose of pain meds there was one bit of pain in my elbow that just wasn't touched. It felt like somebody was driving a nail through the corner, and when you look at the x-rays that's exactly what's going on.  But everything looked good from the doctor's perspective so they brought in the physical therapists to give me a couple basic exercises I can do in my sling.
The next few days are a bit of a blur. I had a lot of people coming in do help me out. My dad came Thursday afternoon. My mom was there Friday for a good chunk of the day and other people dropped by bringing me food and cupcakes and cake or just hanging out. Kimber had some people take her on walks, runs and hikes so she could get some more exercise. I'm at least able to walk her a little bit so I'll take her out in the morning so I can get some fresh air as well.
Wednesday, one week after surgery, I had my first physical therapy appointment. All we are trying to at this point is work on range of motion. It was definitely freeing to be able to move a bit out of the sling. I have a ways to go, but I'm happy to take this next step forward so soon after surgery.
My biggest goal was to get back to a routine as soon as possible. While I have to adapt to a new routine, the structure will be good. Things take longer to do since I'm only able to use one arm, so I need to make sure I plan extra time into my schedule for even basic things like getting dressed.
Overall the recovery is going well so far. I'm glad I'm able to get up and move around. I have my bike setup on my wahoo KICKR so I will do some easy pedaling so I don't go too stir crazy. Since I will be in a sling for the next 5 weeks ( 6 weeks total)  I can only hold on with one hand. I will take Kimber for walks, and stay on top of my physical therapy.
My race season for this summer might be over, but at least I know I'll recover and bounce back once again.
How do you best recover from an injury? Let me know in the comments below.