Spicy Black Eyed Peas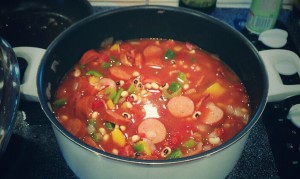 Eating black eyed peas is a traditional way to bring in the New Year. The thought is that if you eat them on New Year's Day you will have good luck for the year. As this legume is a healthy way to eat, I figured it can't hurt! This year I decided to experiment with a spicy recipe.
Spicy Black Eyed Peas Recipe
By Coach Nicole Published: January 3, 2014
Spicy black eyed peas with bacon, chorizo and andouille sausage.
Ingredients
Instructions
If using dry beans, soak overnight or follow package directions for quick soak

Cook the bacon. Transfer to paper towel to absorb some of the grease and break into bit sized pieces. Use the bacon grease in a large pot to then saute the onions for a few minutes. Then add the green and yellow peppers and the celery. Once slightly tender add the garlic.

Now add everything (beans, meat, tomatoes, spices, and 5 cups of water to the pot. Simmer covered for about 2 hours (or until the beans are tender to your liking).

Serve with whatever side you'd like such as rice, cornbread, or even steamed kale or cabbage.