Race Day Nutrition Is All Dialed In. I Think.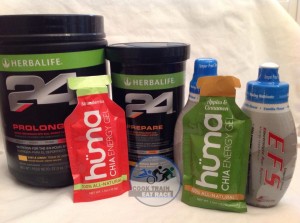 Race day nutrition is one of the topics that gets a lot of attention in the triathlon world and I am certainly a part of it.  I really enjoy asking people what they use on the bike or the run.  What are they eating or drinking before hand is another topic I want to know more about.  As a triathlete we are always looking for that edge and we believe that somebody else holds the magic, but nothing could be further from the truth.  What works for my race day nutrition may not necessarily work for you and vice versa.
Also, what worked as race day nutrition at Ironman Texas 2012 may not work for me at Ironman Texas 2013.  The weather alone could be different, but because I am a triathlete I am always looking for the edge.  The edge for IMTX 2013 is being brought on by testing of race day nutrition and lots of it.  I have spent the past 5 months honing and dialing in my race day nutrition, but even more than that.  I have been dialing in my Pre Race Day nutrition and think I have it nailed, but that is only until the next race of course.
When I started racing triathlon I did what almost everybody else does and that is eat solid foods on the bike and take GU's on the run.  Pre race day nutrition……what was that?  I just wanted to finish so I could have POST RACE DAY NUTRITION.  Well as it turns out my first race was a sprint and not much nutrition is needed for that.  Along the way I have figured out what works for me at longer distances but that didn't come on its own.  I spent a lot of time reading and asking questions.  I spent even more time testing and re-testing.  I am to the point that I will be racing my third Ironman in 12 months and using a 3rd race day nutrition plan.
After racing Ironman 70.3 California I knew that I had to change my race day nutrition from eating solids on the bike to an all liquid calorie day.  It was something that I would spend a lot of time working on.  I found some products that worked for me and used them religiously. At Ironman Texas 2012 I I drank Herbalife24 Prolong on the bike while supplementing with EFS Liquid Shot.  When it came to the run I went straight to EFS Liquid Shot while taking in some coke, cookies and grapes on the run.
The problem that I found was that I took in way too many calories on the bike and found myself bloated.  I had a stomach that was stretched out and the only way to get that under control was to get rid of it and that I did but I won't give you the gory details. Just understand I was uncomfortable from Mile 100 on the bike until Mile 10 on the run or about 1.5 hours.
Other than that issue all went well that day but looking for a way to get faster I started testing again for Ironman Arizona 2012.  During the months leading up to IMAZ I knew I wanted to stay with the Prolong and the EFS but also decided to add in Herbalife24 Prepare.  In addition to that I figured out that I didn't need as many calories as I thought I did and so I started to shoot for 200 calories per hour on both the bike and the run.  This was a big help with taste and with performance.  I felt stronger on the bike and the run during training.  When it came time for the race I found that the reduction in calories didn't affect me and my performance was ideal, outside of the bike crash.
For Ironman Texas I am doing something different again.  The issue this time wasn't performance but taste.  I get tired of drinking or eating the same thing over and over again and decided I wanted to try something new.  What I found out during training was that I could have improved performance with a different buffet of choices.  The Herbalife24 Prepare and Prolong as well as the EFS Liquid Shot are still a part of my race day nutrition but I have replace the EFS on the bike with Huma Chia Gel.  The gel is placed in a 5oz bottle that I carry in my shorts and is thinned out by the addition of water.  This has worked perfectly during training as I am able to get different tastes, same number of calories and not jeopardize my performance.
As you can see there is no perfect science when it comes to race day nutrition.  What once worked for me will not work now because I have changed my tastes and now rely solely on liquid calories.  There is nothing for my body to do but use the energy that this nutrition provides.  My body doesn't have to spend energy breaking down and digesting solid foods and I believe that gives me an advantage as the carbs and protein go right to my cells.
Race day nutrition can be as complicated or as easy as you decide to make it.  I chose to go with all liquid as I think that is easiest but that may not work for you.  The only way to truly find out what will work for your race day nutrition is to test, test and test again during training.  Once you have that figured out your stress level will decrease because it becomes second nature.
Now about that Post Race Nutrition!!!!!