Pineapple Walnut Cake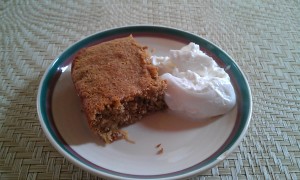 A snack should be a healthy addition to our every day meal plan. The goal of a snack is to provide calories to support our activities and keep our blood sugar stable. The majority of the time snacks should be from whole foods, but occasionally we sometimes crave a more "baked good" kind of treat.
This past week I had a pineapple that I had cut up, but forgot to add it to my smoothies, so, I decided to put it into a "cake."
I completely winged this recipe, but it turned out really good…and pretty darn healthy.
Amounts listed below are estimates.
2.5c garbanzo bean flour
3/4c brown sugar (use more or less to moderate sweetness)
1c walnuts, finely chopped
1/4c milled flax seed
1t. baking powder
1t. baking soda
2 eggs
1/2-1c unsweetened vanilla almond milk (enough to moisten the batter, use more or less depending on how juicy your pineapple is.
1 pineapple cut into small cubes
Preheat oven to 350F. Mix dry ingredients, add in wet ingredients, then add pineapple last. (not so complicated!)
Pour into greased 9"x13" pan and bake until toothpick comes out clean, about 30-40 minutes (I think!).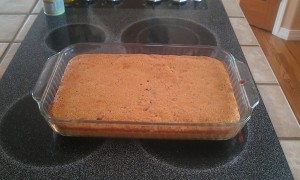 Servings: depends on how hungry you are! But if cut into ~3"x4" pieces = 12 servings
Nutritional info: Approximate calories for 1/12 of the cake: 275cal
Carbohydrate: 37g
Protein: 9g
Fat: 10g
The majority of the fat content are healthy fats (walnut and flax). Serve with a 1/2 cup of non-fat plain greek yogurt and you get a snack at about 350 calories with at least 10 more grams of protein. That gives you a 2:1 carb to protein ratio, which is considered a metabolically efficient snack!
And since one of my mottos is "Where there is cake, there is Nicole," this is a fitting snack for me.