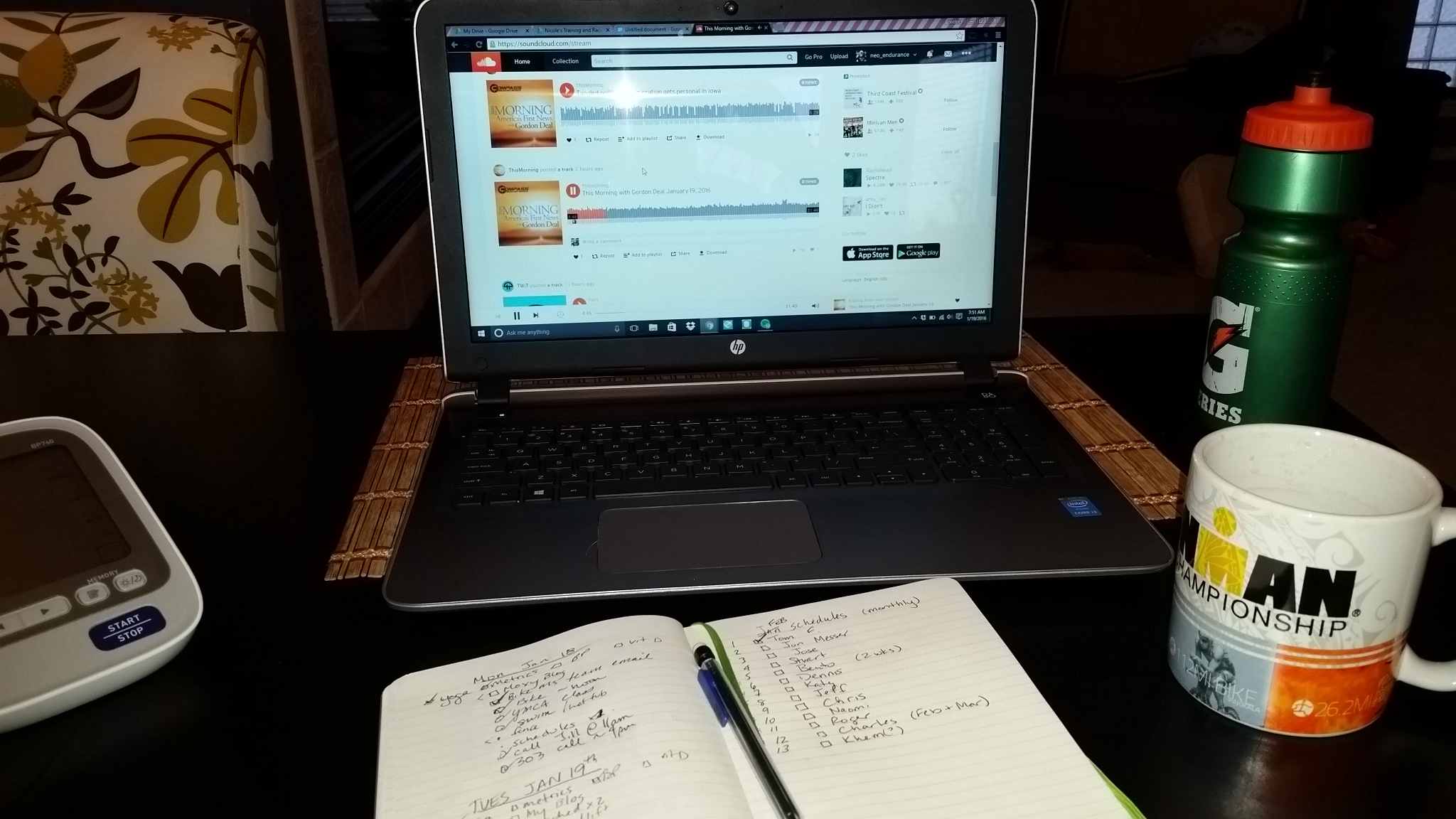 Jan
19
2016
My Morning Routine
Productivity is a big topic these days out on the interwebs and book stores. Being that I'm self employed, train about 15 hours a week, write for 303triathlon.com (and soon will contribute some to 303cycling.com), and am a captain for a Bike MS team, it's definitely important that I make the most of my time. But I want to do it in such a way that I don't feel too stressed out about everything I need to get done. Having a specific routine has been really helpful in getting me off on the right foot.
When do I wake up? That depends. Most days I wake up when my body decides to wake up, often around 6:30am if I went to bed around 10 or 10:30. In the summer this might be a little earlier as the sun comes up earlier. Friday mornings my alarm goes off at 5am as I coach a swim workout at a local YMCA.  As an endurance athlete, busy person, and person dealing with a chronic disease, sleep is a top priority. I track my sleep most nights with the "Sleep " app on my phone to monitor my sleep trends.
Once I roll out of bed, my first items of business are probably pretty normal – go to the bathroom, wash my face, get dressed for some stretching, and make my bed. I used to not worry about making my bed, but it just takes about 45s to make it look neat, so I try to do it every day.
Next I let my dog out, turn on the coffee maker, and head over to the TV where I stream 15-20 minutes of a yoga class from YogaVibes.com. With my history of injury, my genetically given inflexibility and "injury proneness1", and perhaps a little bit of muscle spasticity due to MS2, stretching is very important to my daily routine. I probably still could incorporate more as my training load increases. I do it in the morning due to the fact that if I wait until the end of the day, it might not get done. I definitely subscribe to the thinking that if there is something that you need to do but might put off, get it done first thing in the morning.
(I highly recommend YogaVibes for those who want to do more yoga, but can't seem to get to a class. For less than 2 drop-in classes per month I can access probably over a hundred different yoga sessions from a variety of yoga instructors around the country, including Sage Rountree, who is an expert on yoga for athletes. The sessions range from 10 minutes to over an hour.)
After my stretching session, I head over to the kitchen, get that cup of coffee made, turn on my computer, stream This Morning with Gordon Deal so I have a little knowledge of what's going on in the world. During this time I've got my coffee, I record some metrics in TrainingPeaks, including blood pressure. So far I've been able to avoid getting on blood pressure medication, but need to track this regularly as I have a family history of hypertension and I noticed an increase in BP when I started my MS medication. Add to that I have horrible white coat syndrome, especially when I see my neurologist, I need to prove I'm really in a reasonable range on a daily basis.
I review my big picture goals and tasks on WorkFlowy.com, and then make sure I document my key tasks and appointments for the day in my journal. I've adopted a modified version of the Bullet Journal. I usually make my breakfast during this time. Once I have my list done, I put the finishing touches on "getting ready" usually changing into non-yoga friendly pants and brushing my teeth. My goal is to to have all of the above done by 8am so I then start in on my list!
What's your morning routine like?
I took a DNA test geared towards athletes and turns out my genetic markers leaned toward a pretty high likelihood of soft tissue injury. Therefore for me, keeping on top of warm-ups, cool-downs, stretching and mobility work is important.

A little bit about muscle spasticity in MS.

http://www.mymsaa.org/about-ms/symptoms/spasticity/

,

http://www.nationalmssociety.org/Symptoms-Diagnosis/MS-Symptoms/Spasticity