Legend Free State Olympic Triathlon Race Report – Better Late Than Never
My return to triathlon is official, so I might as well write about it! While I did do a couple indoor triathlons earlier this year, it's not quite the same as swimming in a choppy lake, battling killer headwinds on the rolling hills of Kansas farmland, and plodding through a 10k on a hot day.
I'm no stranger to the early June race, formerly known as the Kansas 70.3, racing it three times and attending as a sherpa/coach/spectator once. But this year the Kansas 70.3 was no longer; instead it was Legend Free State with options for a sprint, Olympic, half-iron (70.3) and 100 mile race. I chose to do the Olympic distance, as I felt that was right on for testing out my hips after two labral tear repair surgeries.
Because this wasn't my first Kansas rodeo, I was pretty comfortable with my routine. Friday after coaching swim, I packed up the car, Carole came over and we got her stuff loaded up. I still had to drop Kimber off at her temporary residence, so she sat on Carole's lap. Maybe I should also mention it was National Donut Day so I stopped by Dunkin' Donuts after the swim to get coffee and a free donut!
It's about a nine hour drive from Colorado Springs to Lawrence. And it's pretty boring. We had dinner when we got to Lawrence (can't really go wrong with Chipotle) and then retired pretty early. We stayed in the Super 8, and it wasn't so super, but the one good thing was that the beds were comfortable!
Saturday, June 6th: I got a really good night's sleep and then wandered down to the lobby for breakfast, where Carole and I met a few other triathletes. Belgian waffle was my choice of fuel for today. All we had to really do today was packet pick-up and get in a quick s/b/r to loosen up. The original plan was to swim/bike/run and then pick up the packets, but a nice storm cell was pushing its way through so our plans were altered a bit.
It didn't take too long for the storm (deluge) to clear up so we headed down to Clinton Lake with other Southern Colorado triathletes. Packet pick-up was very, very quick (no long lines and no athlete meeting) so after we parked and walked to the check-in, we were done in about 2 minutes. We heard our secret swim beach was closed, so we skipped that part of the pre-race prep. There were several new to Kansas racing, so we walked down to transition so that those who were new to the race could see it. It's a hike! And it was flooding. Water levels were so high that it was creeping in on the port-o-potties! Crews were out modifying the transition area. The old parking lot that used to be part of the run course was now half submerged.
When we had enough of staring at the high water, we walked back up the hill and got ready to ride. A quick out-and-back on the first few miles of the course was enough to wake up the legs and remind the mind how beastly the Kansas rollers can be. It is not flat! We finished up with about 10 minutes of running on the run course.
The rest of the day was about relaxing, having a good dinner with a huge group at Paisano's set up by one of my athletes, Khem, and meeting a Team NEO athlete, Michael, for the first time.  I coach a lot of remote athletes, so it's always great to finally meet them in person!
Sunday Funday Race Day, June 7th: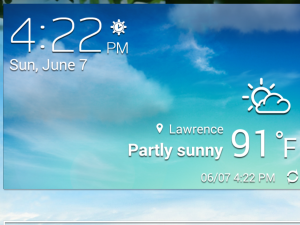 The forecasted high was 91 degrees (and it got there!) The hottest it had been in Colorado Springs was something like 82. And a dry 82 compared to Kansas. Growing up in Florida, I know what hot and humid is like, but it really takes a while to acclimate when you are talking strenuous exercise. So we knew it was going to be key to stay as cool as possible.
Carole and I were up early and we got a pretty reasonable parking spot under a tree (shade!) at the secret swim beach lot. This year T1 and T2 were one and the same, so we rolled our bikes with all our gear all the way down the hill to get everything set up.
I was excited to be back; and there was a pretty positive vibe in transition. I got a little distracted and didn't get my complete warm-up in, but did some dynamic movements to loosen up a bit.
My swim wave was one of the last ones, and transition closed at the same time for everyone, although they did keep it open a bit longer as people were straggling in pretty late. Parking was a little different I suppose this year as they park was soggy, so some grass locations weren't available.
Anyway, I waited as long as I could to put my wetsuit on…no point in baking before the start! Once I was suited up, I watched some of the other waves start, chatted with a few athletes, and then got in the start chute when it was my wave (the entire female Olympic race started together.) As we were waiting, we watched some of the lead 100mi athletes come out and start their second lap.
Swim: (38:16, 8/21 AG) The start was partly down the boat dock, no warm-up or deep water start as in previous years when it was an IRONMAN 70.3 event. The announcer counted off the start and we were off. I was sort of in the middle towards the front and it was a choppy mess from the start. I was a windy day and this was the choppiest water here in Kansas I can remember. Fortunately the course is a simple rectangle and there were plenty of buoys to sight on. It took me until almost the first turn, over ⅓ of the way into the swim, to finally feel settled. Somehow in these swims, even if I get my own space, people seem to find me to get in my way! The nature of open water swimming!
I just kept chugging along and overall felt pretty good. When I made the second turn to head back to shore, the wind was in our favor so the swim smoothed out a bit. All the way until last 100m or so where the chop picked back up as we were close to shore. I exited the water, saw my time was longer than I planned, but also saw my Garmin had me at 1.1 miles instead of 0.9. At some point during the end of the swim, a thought crossed my head that I should look back and see how many people were behind me as I ran through transition. Then of course in my head popped the lyrics to a song that was on the radio on the drive in (and one of my current faves) "Don't you dare look back, just keep your eyes on me…" Good advice. Don't look back, just focus on what I'm doing! So that's what I did.
T1: (2:34, 4/21 AG) T1 is kind of long due to the length of the transition area. I had premium space towards the bike out, so I could comfortably run bikeless for most of it. I got to my bike and had a fairly smooth transition out of my wetsuit and into my bike shoes/helmet. Off I went.
Bike: (1:24:41, 148W NP, 4/21 AG) The bike is rarely a concern of mine, but with only riding about five times outdoors on my bike due to the rainy weather we'd been having, and not having been on my TT bike "for realz" since August of 2013, I was a little concerned I wouldn't be comfortable aero. Not fit-comfort, as I was refit recently and it felt great, more handling ability, especially when picking up speed. But amazing things happen on race day and I settled in pretty quickly. It didn't take long for the rolling hills of the course made their presence known!
Then there was the wind. It was coming out of the west, so a nice crosswind across the dam, and then on the real rollers it turned into a pure headwind. I don't know the exact speed, but I'm guessing in the 20-30mph range out there. The course was an out and back, and my bike is great in the wind, but it was definitely a factor out there for everyone. The tall grass on the side of the road had some serious bend to it.
I focused on my power and worked to keep it steady and push the pace if I could a bit. I also spent a lot of time singing "Shut Up And Dance" by Walk the Moon. My first half power was higher than the second half, and some of that had to do with being pushed back for a while (for example on the dam heading out I averaged around 18mph at 150W, where on the way back 21mph at 130W.) The last few miles were back into the headwind as we rode through the park back to transition. It was these last 6 or so miles when I felt hot. The sun was beating down and I remember thinking – if I feel hot on the bike, how is the run going to feel?
Wind aside, the course was gorgeous and for the most part the roads were in good shape for the Olympic course. Bike nutrition: Maple Almond Breeze Bar, osmo electrolyte drink, and water.

T2: (2:05 5/21 AG) We got to bomb down the hill just before transition and got a preview of what it was going to be like running back up it! With my convenient transition spot about 30 feet from the bike-in, I was able to get moving quickly. I swapped shoes, took off my helmet, put on my 303Triathlon.com visor and headed out to the other end of transition.
Run: (57:05 2/21 AG) The first bit of the course was shaded, and gave me some time to try to settle in. It was definitely hot out there. I had my plan and knew there would be plenty of fluid available on course. Within the first 400m I passed someone who passed me at the end of the bike, so that was a small win! Goal – stay relaxed and as cool as I could. My calves were super tight and could go one of two ways – they relax a bit as I settle into the run, or they decide to cramp up. Fortunately they settled down after a couple miles. The run up the hill from transition was a slog as usual, but at least this year once I was at the top, I didn't have to go back down. I made my way through the campground trying to take in the scenery. It seemed there were fewer campers out this year. At around mile 2 I had a gel (hammer espresso or something like that with caffeine!) and that was the only calories I had on the run. It was plenty to get me through. The first half of the run was quite warm, so I took advantage of ice and squirt guns from spectators. Then at the turn around, there was some slight cloud cover, which didn't necessarily cool things down, but it made the heat a little more bearable.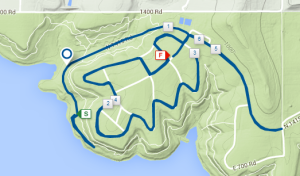 Once we finish winding through the campground, the course turns back on the main park road for an out-and-back, then we turn back into the campground area to head to the finish.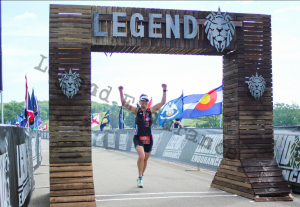 Total time: 3:04:38, 5/21AG, 18/92 Female.
Not too bad considering where I'm coming from…
Post race:
After the race I waited for friends and athletes to finish the 70.3. I hung out with friends, had a beer or two, and then visited with my friends at the Rampy MS Research Foundation tent. They had a big group of athletes racing, including one who has MS and did the Olympic distance on a hand cycle (those hills!!!) Very inspiring! Check out their Trifest for MS at http://researchms.org – you can do the race remotely as a "virtual participant."
Dinner was the traditional Free State Brewing Co meal. Then Khem, Carole, and I found ourselves (as usual) at the Jayhawker across the street to enjoy some cake. The bartender even remembered us!
Next up, the Rocky Mountain State Games sprint tri on July 25th!