Kansas Race Weekend Wrap-Up
This past weekend I was at the Kansas 70.3 and got to meet up with two Team NEO athletes who were also racing. Rodney Buike was racing as a fellow TrainingPeaks Ambassador, and Khem Suthiwan was racing as a Newton – IRONMAN Foundation Ambassador.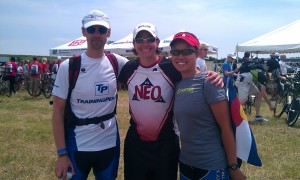 What I want to do in this post is not so much talk about my race, but some of the experiences and the results of Rodney and Khem.
This was the first time I got to meet Rodney in person, as he lives in Canada. We communicate a lot via email and occasionally on Skype. Needless to say it was great to finally meet him in person!
Both Rodney and Khem had good race plans and were well prepared for the race. They knew when to be where, everything they needed for the race, and had good pacing strategies based on their training. All that was left was for them to execute and enjoy.
Rodney's swim and bike went well and he hit his time goals. Even without power (technology sometimes fails us) he knew the "feel" and ballpark heart rate for his target effort.
His run didn't quite go as planned due to muscle cramping (which we will look into and figure out) but he did have a much faster run than his 70.3s last year by about 15 minutes. He still finished 30/187 in what is considered the most competitive age group out there! Definitely a performance to be happy about!
Khem is training for Ironman Lake Tahoe, so this is one of a couple half-ironmans on her schedule to test out her pacing, nutrition, and build fitness. Khem also had a great race!  After a great swim, she stuck right on her pacing strategy on the bike and her power numbers looked great. Her run was a PR and only 2 minutes off her goal time, which is pretty darn close in an event of this duration. She ended up with a PR in this race (both the 70.3 distance and the Kansas course) by 18 minutes!
What these athletes did is put in the work and prepare appropriately. Not every race goes completely as planned, but Khem and Rodney were prepared and ready for what the day would bring.
And they even got to meet Hines Ward, who sat at the table next to us at dinner.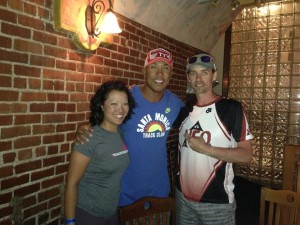 What's great about being a coach and racing, too, is that you know exactly what the athletes are going through. Triathlon is an individual sport, so I can let them "do their thing," and I knew they were well prepared. But it is also great to be there if they needed anything.
I also need to shout out to Chris, Carley, and Craig, who ran a very tough 10 mile race in the Garden of the Gods on Sunday! Chris ran to a top 10 age group finish (9/86), and Carley did this race after a Friday evening sprint tri!
Geoff did XTERRA Moab and took first in his age group and 8th male overall. Look for him to be doing more XTERRA races this season.
This weekend we will have Pat doing a stage race in France (La Route de Saone et Loire), Khem is getting in some base miles in the Denver century ride, and I'll be at it again but in a much shorter race with the Boulder Sprint. Many more Team NEO athletes will be racing the weekend of the 22nd and 23rd, so I will be sure to keep everyone posted!
(I do have a few athlete slots available so if you are needing structure and direction, let's see how I can help!)