How Not To Pace A Marathon
Pacing a long endurance event such as a marathon isn't always easy. Sometimes we have in our mind a pace we want to run, but that isn't the appropriate pace for our current training level or fitness. And sometimes it's just the pounding of our bodies that slows us down if we haven't adequately prepared with long runs and core/hip strength training.
Marathons need to be run at an aerobic pace (below threshold). The better shape you are, the closer you can get this pace to your threshold. Even though the professional runners have crazy fast paces (sub-5 minutes per mile for the men and low-mid 5s for females), these are still paces that are below their lactate threshold.
I'll be the first to admit that I bombed my first marathon attempt. While it was a great experience with Team In Training at the Denver Marathon in 2009, I had a pace in mind based on my half-marathon time. There were a few factors that affected my day, but in reality I just wasn't prepared enough to successfully complete the race at the pace I had in mind. I ended up with a great half-marathon split (about 1:52) and finished in 4:26 and needing a lot of ice!
I had an athlete recently run a marathon and while we were preparing him for a particular pace, he wanted to see if he could beat his cousin, which led to him starting out way too fast. If you start out this fast, you basically burn through a lot of matches at the start, and in order to recover these you have slow way down, just like I had to do.
Here's what his marathon looked liked: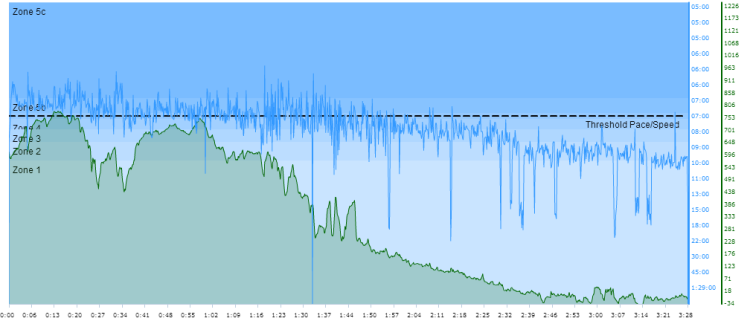 We can see he started off above his threshold pace that we calculated earlier in the season, and about an hour into the race started to fade closer to threshold and then he slipped below that pace, and then about two and a half hours into the race was spent, trying to hold on to a pace several minutes per mile slower than where he had started. I'm sure he's not the only one who has done this in a race. While he went out fast intentionally to keep up with his cousin, he would have had a faster time had he started out at a more conservative pace, but still somewhat aggressive marathon pace for him, around 7:30 min/mile.
Here's his Boston marathon, which was a bit better paced, but he still might have been more conservative at the start as you can see how he slowed down at the end. He was only 1 minute faster in Boston.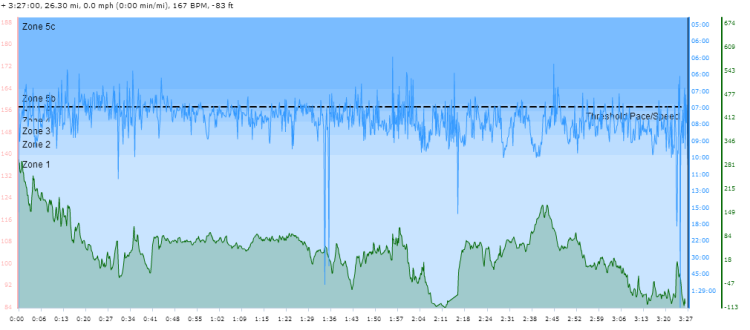 And here is an example of a slight negative split marathon, with most of the race occurring in Zone 2 and 3, except for the very end where there was enough in the legs to hit threshold pace. The dips in pace are walk breaks with a 4:30 run, 0:30 walk strategy from the start. That strategy worked really well and I ran a 4:09 (with a 5 minute bathroom break included).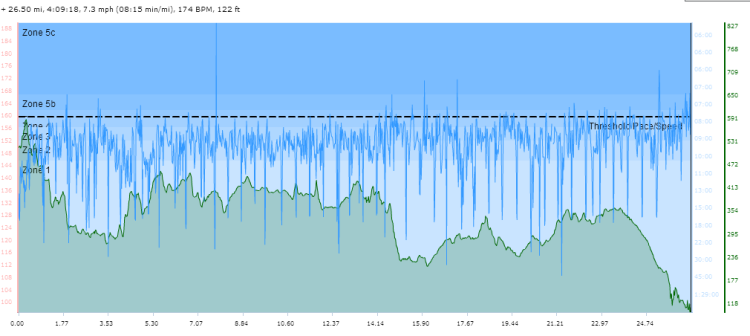 In order to get pacing down, it's important to know what pace you are capable of running. My go-to calculator is based on the Daniels' Running Formula.
It's also important to get the appropriate training runs in so you can practice nutrition and hydration strategies, as those can play a big role in performance as well.
If you are training for a marathon, know what your planned race pace is, do some work at that race pace so you know what it feels like, practice your fueling and hydration plan, and hit the start a little conservative. You'll probably find yourself surprised with a great race!