How Do I Use My Garmin For Cycling?
Kate, a runner friend of mine I've gotten to know through the running relay team Girls Heart Rockets, sent me this email:
I've used my Garmin 910XT to train for running. I've explored some of the features. It works well for what I need, but I don't explore everything all at once. Thus, the only other things I've figured out is multisport mode for triathlons and the swim mode for open water.
To keep it simple, if I want to make the data it collects from cycling accurate and useful, do I need other accessories? It's on my wrist but I've heard about a bike mount. I feel that would be unnecessary. Also, I'm BRAND NEW to power training. I know nothing about it but suspect I need something on my wheel to collect cadence data, and a computer….like my Garmin?
If you can just talk about what you do when cycling with your Garmin that'd help. I'm eyeing Ironman Louisville in late August (still have to sign up). So there's plenty of time to play around.
It's exciting that Kate has decided to go long!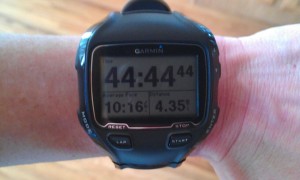 GARMIN 910XT
First, I will start with some Garmin details. The device lets you configure swim, bike, run, and 'other' settings. By holding down the MODE button for a few seconds, you are giving the ability to switch between sports.
Each sport has its own set of screens that you can customize to display pretty much whatever the heck you want. Garmin gives us a lot of options to pick from. In the four available screens, you can have one to four different metrics display. You can also turn off some of the screens if you don't need all of them.
Spend some time figuring out what you want to look at and then configure the screens. For example, if you are in the run mode, press the mode button repeatedly until you see the list of options (History, Training, GPS, and Settings.) Select Settings —> Run Settings —> Data Fields. You are now at the screen to customize what you see on the data screens when in run mode.
Do the same for your other sports. For cycling, common data you might want to see would be heart rate, speed, distance, cadence, power, and elevation (since I live in Colorado, I like to know how high I am.  🙂  )
Regarding power, I like to look at average power, lap average power (for intervals), and 3s power to help me stay somewhat consistent. For example, the screen I have for when I do intervals has lap average power, 3s power, cadence, and lap time. Instantaneous power can fluctuate quite a bit so I don't recommend that. Go through the list of options and see what is most important for your training and how you want that organized.
SWIM
Kate didn't ask about this specifically, but I'd like to point it out. You can use the 910XT in the pool as well as open water. You can choose 25m, 50m, 25yd or custom distance to track your pool swimming. It "knows" what stroke you are doing (for the most part – if you have improper stroke mechanics, it might get confused.) It's a great way to track splits and there are also some swim efficiency metrics, like your SWOLF (swim golf) score.
ACCESSORIES
If you've got your bike, heart rate strap, a power meter, and a Garmin 910XT, all you might need would be a cadence sensor (depending on the kind of power meter you have.) Garmin makes a wireless speed/cadence sensor that is easy to install.
Most devices these days are ANT+ compatible, which means easy to use wireless data transfer, and that you can use the Garmin device to collect all the data (heart rate, speed/cadence sensor, power meter). You just need to tell the Garmin to look for a particular device and it should pair with it. Settings—>Bike Settings —>Bike 1 (or whichever bike you are configuring – it can handle multiple bikes) —>ANT+ Power
Regarding a bike computer, you've got it on your wrist. However, sometimes on the bike it's easier to see (if you are doing intervals) if you do mount it on the handle bars. I have a bike mount I use on my road bike for my 310XT that works great. I still just use my 910XT on my wrist.
If you are just recording data to look at later, or glance at a single screen every so often, being on your wrist is likely just fine. The more you need to look at your display or change screens, the better off you are to have it mounted on your bike.
For anyone new to power, I recommend checking out Power 411, How to Train with Power. And feel free to send me any questions for other Ask the Coach posts!
This is only scratching the surface of some of the Garmin 910XT features, but I hope it helps you get a better understanding of how to use it to collect your training data. And good luck with the Ironman training, Kate!
Been wondering about something related to endurance sport training and racing? Submit your Ask the Coach question!