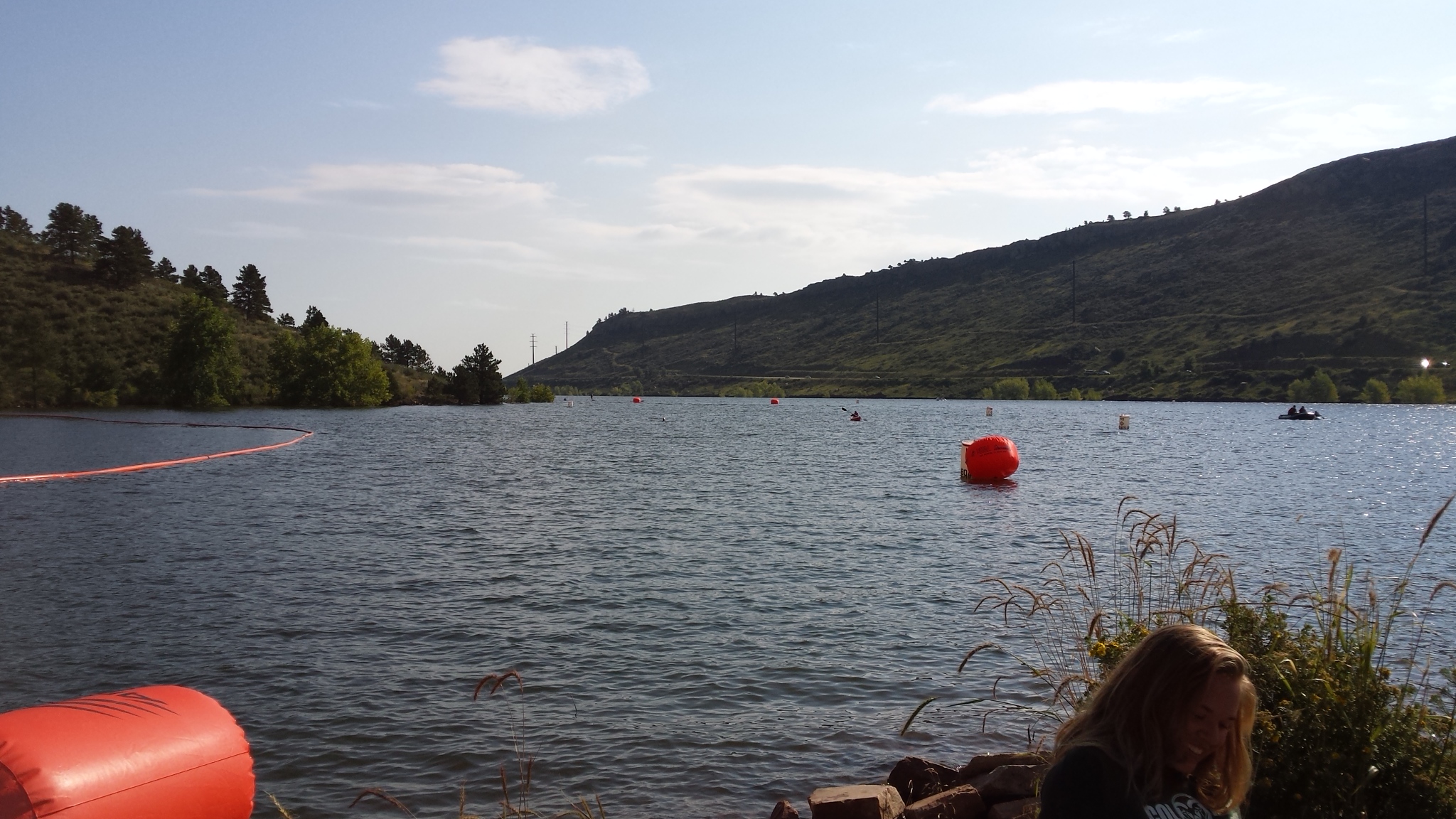 Aug
11
2014
Horsetooth Open Water Swim Race Report
Time for another race report! Since the hip surgeries slowed me down in terms of cycling and running, I've been spending a lot of time in the pool. There is something about competing – even if not "serious" competition, but just getting out there and being in an environment that will push you a little harder. So I did an open water swim race that Coach Grant recommended – the Horsetooth Swim.
Saturday afternoon I drove up to Ft. Collins, which is about 2 hours from Colorado Springs. I went solo and found my way to the inexpensive motel I found at the last minute. I realized I had stayed there before with a friend before the Loveland Lake to Lake triathlon.
Once checked in I went exploring. My goal was to visit Odell Brewing first (my maiden name is Odell, and also part of the O in NEO), but by the time I figured out where I needed to be, they were about to close. So instead I drove a lap or two of downtown, found a parking space, and made my way to Ingredient. I had eaten at one in Lawrence, and the food was good so I thought it'd be a fairly healthy choice before a swim. I ordered a bacon, salmon and tomato (BST) sandwich, and it also had avocado.  It was the right amount of food and consistent with my typical pre-race meals. I only ate a few fries! And the downtown scene in Ft. Collins is a fun one – bikes everywhere and a lot of people eating ice cream on a nice summer night.
Then I went back to the hotel, got a little work done, and hoped that the neighbors wouldn't be too loud for too long. The air conditioner also did a good job drowning out the outside noise, and I actually slept pretty well for being the night before a race in an inexpensive motel! I did get woken up by an "interesting" conversation from the hall at 3am, but managed to get back to sleep just fine.
I woke up a little before my 5am alarm, and was only a little stiff. That's something I've been dealing with lately, but usually it gets better once I start moving around. I did some mountain biking the day before so it could have been worse! I didn't have much to do other than get dressed, eat my banana and peanut butter, and put water in my bottles. A little after 5:30 I was on my way to the south bay of Horsetooth Reservoir. The roads were familiar around the lake because the Loveland Lake to Lake uses them, and it brought back great memories of that race.
The check in was quick. I got my timing chip, cap, and race number sharpied on my arm. Then I checked the time and hung out, chatted with some other competitors, including Briana and her husband (I'm forgetting his name right now!) from TrainingPeaks. Found out the night before she was racing and knowing someone else is going to be there did help the motivation for the morning! I also did my standard UCAN drink about 45 minutes before the start.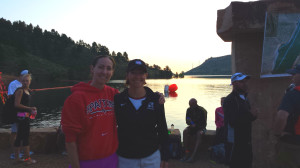 It looked like most were doing the wetsuit legal 2.4 mile swim based on the cap colors and number of wetsuits out there. There was also a 10k swim that started on the north end and finished south. 65 people were doing that swim. Running a 10k is hard enough for most people… (on this note, take a look at my interview with 10k swimmer Christine Jennings.)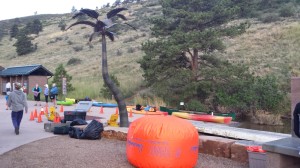 The race start was delayed slightly because the buoys had to get set up, but once that was done and we had the pre-race safety briefing, we got in the water. It was an in-water start, and for not having a wetsuit, it meant a little more treading water. Which was fine because I didn't do an in-water warm-up for fear of getting too cold.  (I did do some dryland warm-ups.) When I got in, the chill of the water did initially take my breath away, but I was expecting that so just took some deep breaths and felt fine.
It wasn't too much longer and the race began. I tried to be in the back, but it still was a little crowded. I was comfortable not wearing a wetsuit, but it does take away the security blanket of buoyancy!
My plan was to start off controlled with good form, keep steady, and build across the course. I felt I executed this plan well, and felt like I had a pretty good line to the first buoy. I made the turn and this was a long stretch north, with only a couple mid-way buoys to sight. This is the hard part in an open water race. First, I'm racing against my time, not anyone else. It's hard to gauge speed and effort when you are looking into a dark abyss. At least I could see my hands! The mind tends to wander and I had to refocus on my effort and form. And the motivation to keep a good pace is harder because (for me) I can't really see many other swimmers, so there is really no rabbit except the one in my mind.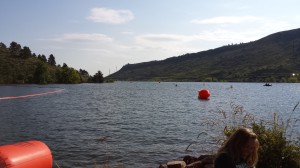 The final turn buoy seemed like it took forever to get to, and at this point I misjudged how much further I had to go. I got to the next orange buoy and saw a couple other people in bright yellow caps turn into a cove. And I did see a building structure, which had to be the pavilion at the finish. So I went that way, but still had to gain my sense of direction and confidence that was the right way to go. It diminished the strong finish I was hoping for, as I was saving a little for the end but was already there! (Pro Tip: know the course!)
My time was a bit slower than what I was hoping for, although it did feel like a solid swim and I am very happy with that. In addition, my Garmin had me swimming 1.4 miles instead of 1.2, so if that is truly the case I need to work on sighting better but I did hit my target pace. I did feel I went pretty straight until the last little bit of course confusion. Regardless, I had a great open water swim at a beautiful venue. It makes waking up before sunrise completely worth it!