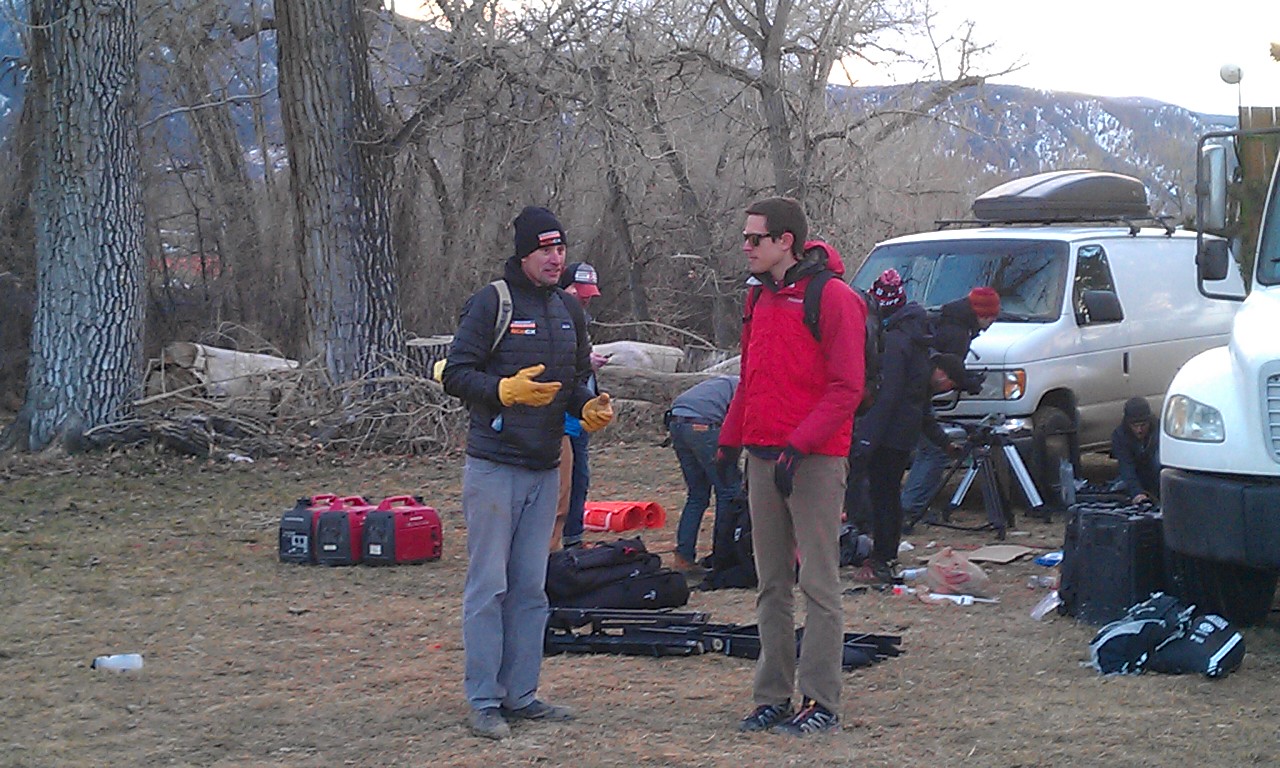 Jan
14
2014
Course Marshaling the 2014 US Cyclocross National Championship
This past weekend was the 2014 Cyclocross National Championships, held at Valmont Bike Park in Boulder. I wasn't going to miss a chance to see some great racing, and also give back by volunteering as a course marshal.
Friday morning I got up around 5am so I could leave the house by 6am. I was a few minutes behind schedule so I was hoping the Denver morning rush hour wouldn't cause too many problems. Denver was fine, but highway 36 leading into Boulder was another story. I found the unmarked volunteer parking lot that was on the map I was sent and walked about 5 minutes on the local bike/pedestrian path to the race venue.
Temperatures were in the 20s, with highs supposedly in the low 40s. But at 8am with the low sun and some clouds and WIND, it was very chilly. I was given my course crossing assignment, a bright yellow vest, and orange flag, and Susan and I headed to C2. We were on a sloped part of the course, which was currently frozen.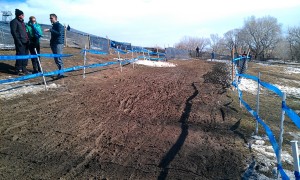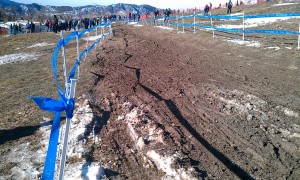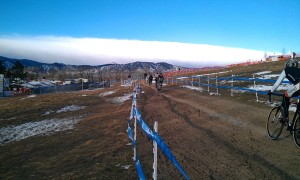 The athletes were pre-riding so all we had to do was to make sure pedestrians that wanted to cross the course at that location had a clear crossing. So for about four hours, I stood out there with my flag, watching the races (a few masters races took place first, then the juniors were up) and making sure athletes and spectators stayed safe. I did get quite a bit chilled, even though the sun did come out around 9:30 or so. But the wind was biting and the course turned muddy! I'm glad I opted to wear my trail shoes and not sneakers. And the first aid person walking around handing out hand warmers was a life (or hand) saver!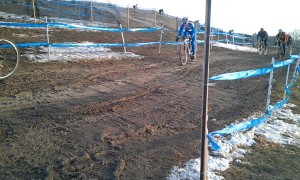 It was definitely a great experience to be out there helping out. Those juniors are tough! I think a lot of adults wouldn't try to ride a course like that, but those kids were giving it all they had. Laurel Rathbun from Monument (just outside of Colorado Springs) took 2nd in the women's 17-18 race. Always great to be able to cheer for a hometown rider!
The volunteer coordinators were organized and helpful, even sending someone around to see if we needed to take a bathroom break. While I think I made a good "crossing guard" probably the best work I did was letting a couple guys borrow the bottle opener I have on my key ring.
Once I was relieved of my duties, I turned in my vest and flag, got a sandwich and then headed someplace warm before my massage. (When in Boulder see Todd at Integrative Healing and Acupuncture.) Then I met my coach (Grant) at RallySport for a quick swim so I could get some feedback on my stroke. And spent a bit of time warming up in the hot tub! Then I met with Gloria from TrainingPeaks for dinner before heading back home.
Saturday was a working day at home, writing schedules and giving a lactate threshold test to one of my athletes. Sunday back to the races!
Sunday was the big day, the elites were racing in the afternoon. My shift started at 12:30pm so I left home around 10am, taking the back way due to construction on Highway 36. The crosswinds were nuts on Highway 93 between Golden and Boulder! I came more prepared for the cold weather with ski pants and warm jacket. At times I was over-dressed, but that was fine with me. When the wind picked up every so often I didn't freeze. It was a bit calmer at the park than it was on the highway!
I was working again as a course marshal, but at a different crossing. Today I was near the pit. There were more spectators out to see the pros. Fortunately most understand they had to wait for a clear course to cross. This was a great place to watch the athletes zip past. You could really see how hard they were working!
For the women's elite race, Katie Compton was working her way to the lead and once she got it, it got bigger and bigger. But being right there to cheer was fantastic. I also cheered on the others, and the fight between Meredith Miller and Crystal Anthony was epic. Meredith was in fourth pace for several laps, then on the last lap or two (can't remember) she's holding third. And she held it at the finish line as well!
The men's elite race was Jeremy Powers from the start. We just watched his gap increase lap after lap. Watching the others push their limits to hold their position was great. Grant was racing in this one so I cheered for him each time he came by.
Once the races were done, I had about an hour left of my shift so I helped with the course tear down. There was a lot to get done and they didn't waste any time to get it going. While I would have enjoyed hanging out a bit longer and heading over to the post-race party, I did have a 90+ minute drive back home.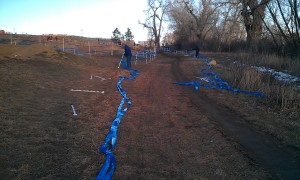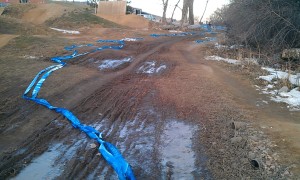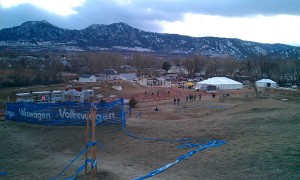 Wow – what a weekend! Even though I was working so I couldn't get the full experience (totally missed the vendor expo area), it was fantastic to be a part of the Cyclocross National Championships. It's great to have the opportunity to race, but it also is fun to work on the other side. We know volunteers can really set the tone for a race experience, so I try to at least once a year give back to a race by volunteering. And since I won't be racing for a few months yet as my hip is still healing, I'm hopping into my favorite races as a volunteer. Next up: The Super Half Marathon aid station on February 2nd.
 A few more of the pictures I took are here. I didn't get any action shots for 2 reasons. 1 – I had to pay attention to both the race and the spectators while working, and 2 – it was chilly so I didn't want to take my gloves off!