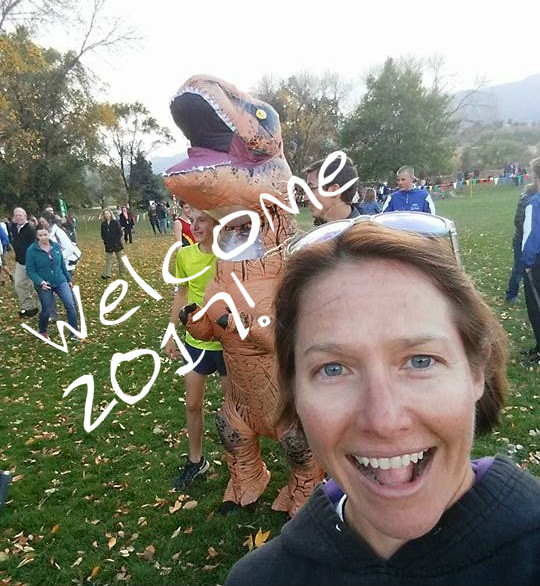 Jan
05
2017
Coach Nicole's 2017 Goals
My theme for the year is KICK ASS. It'll take some discipline, but everything I do will be to excel at whatever I attempt. Nothing half-assed. This means I'll probably have to cut back on some things, but that's OK. I will focus on the important things, and remove the not-so-important. And to kick ass, one must have goals.
When you set goals, the best way to do that is to set specific, measurable, attainable, relevant, and time-bound (SMART) goals. While I've left out some of that detail in this blog post, I have my plan to make everything happen.
NEO Endurance Sports Goals:
-Present to the local endurance community at least once every 2 months.
I will be doing more presentations and workshops with athletes in the Colorado Springs community this year. My first presentation is scheduled for Jan 26th at Cafe Velo, where I'll be going over how measuring muscle oxygen can help you train more efficiently. These presentations will be shared so if you aren't local to Colorado Springs area, you can still get access to the information.
(If you have a topic you're interested in learning about for a presentation or workshop in the Colorado Springs area, drop me a note on my Contact Form.)
-Continue to provide the highest quality service for athletes.
I help people achieve things they thought not possible. To do that, I look at each athlete as an individual. Everyone is different, so everyone's training is customized to their needs. Do you have a goal, but you are not sure how to get there? It doesn't matter where you live or what your experience is, I can help you! [This isn't written as a SMART goal, but the underlying more specific goals in my 2017 plan that might bore you are.]
I do have room for a couple more athletes in 2017… Read about my coaching packages and let me know what your goals are!
Personal Goals:
-Stay healthy.
This means prioritize sleep and nutrition. For sleep I will aim for a minimum of 8 hours of sleep a night, and to not set an alarm if I don't have to. Nutrition goals are simple: Buy 90-95% real/whole foods, align my nutrition with my training schedule, plan ahead, and prepare meals ahead of time on a weekly basis. I have to take care of myself to best take care of my athletes and team.
-Express gratitude.
I have a daily gratitude journal I started a couple weeks ago. In it I write three to five things for which I have gratitude for that day. It's simple, quick, and keeps my mind on the positive.
-Practice some non-sport recreation and creativity.
A lot of my social activities revolve around the endurance community, which I love, but I need to step away every so often. Even 15-20 minutes a couple times a week of playing musical instrument or reading for enjoyment (not sport science articles!) should give me some release. Longer sessions will get scheduled at least once a week, as it's important to unplug a bit from the regular grind to recharge. If we don't schedule it, it may not happen!
To kick ass, one must work hard and rest hard.
Race Goals:
I race because I enjoy it and still want to see what I can do. I am simply competitive with myself and understand and accept my limitations. My goal is to be the best I can be with the time I have available to train. Sometimes workouts get shortened, modified, or skipped, but usually some planning and efficiency during the day and I get it all in! (And I have a coach to help me with this…Grant Holicky of Apex Coaching. It's even important for a coach to have a coach!) As the season progresses, I'll be able to write down specific goals for each event, but right now the basic goal is to be a little faster than last year. I also didn't get to finish out the 2016 tri season, so I'll be back to take care of that unfinished business.
-My 2017 Race Season as of today…
1 Jan: Rescue Run 10k
8 Jan: Life Time Fitness Colorado Springs Indoor Tri
5 Feb: Super Half Marathon
Mid-March:  St. Patrick's Day 5k
3 June: Colorado Tri Olympic
24-25 June: Colorado Bike MS
9 July: Boulder Peak Tri (Olympic)
5 Aug: Boulder 70.3 [A Race!]
12-13 Aug: Wyoming Bike MS
2-3 Sept: TriFest for MS in Bentonville, AR. (Join me in the TriFesta!)
23-24 Sept: Waves to Wine (NorCal Bike MS)
As Colorado Springs has a ton of local running races, road and trail, I'll hop in a handful of those, especially as I am a member of the Red Leg Brewing Brewer's Cup team for 2017!
There will also be a few local cyclocross races in the fall/winter on my schedule.
Team NEO Bike MS:
-Grow team and funds.
I mentioned this in my 2016 review, by my goal for the team this year is 40 members and to raise $50,000. It's not going to be easy, but we can do it! If you want to join the team or make a contribution to help find a cure for multiple sclerosis, go here: http://main.nationalmssociety.org/TeamNEO2017
303 Websites:
-Remain a solid contributor.
I will still be working with 303triathlon.com and 303cycling.com and have specific goals for that, but again, they are fairly specific so I won't bore you! Yes, they are SMART goals!
These are the big-picture goals. There are a lot of sub-projects in the works to make 2017 fantastic and to get you the tools you need to be a successful athlete, for me to live healthy and happy, to raise funds for those impacted by MS, and to contribute to my community.
I hope you all have a healthy, happy, and prosperous 2017, and kick ass, too!
In the comments below, share what your 2017 goals are!