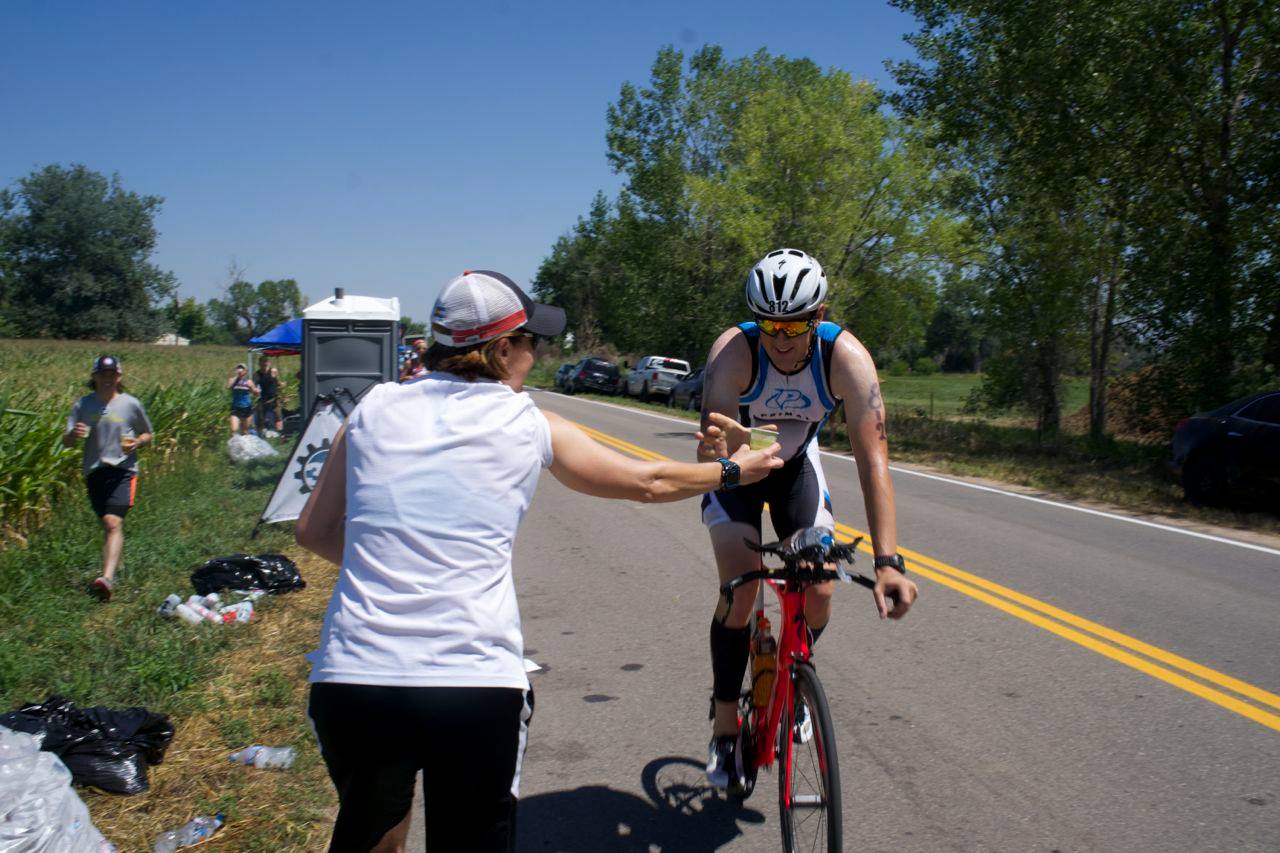 Aug
15
2016
Broken Elbow Update – Weeks 6-7
Wow – it's been close to seven weeks since my elbow surgery. There is nothing like a busy summer to make the time pass quickly! If you've been reading the blog, you probably have been following along a bit. Here's what I have been up to:
I attended the Boulder Peak triathlon, but

it was cancelled

due to emergency personnel being reassigned to assist with a wildfire evacuation. But I did get to meet Flora Duffy!
I spent a week in Death Valley, California as a

crew member

for a Badwater runner. This was an amazing experience, and she crushed it, coming in as the 8th overall female in her very first Badwater attempt.
I spent a weekend in Boulder, CO assisting with media coverage for 303Triathlon at IRONMAN Boulder. I have some video coverage over on

my Facebook page

. There were many cool happenings! A chunk of the day was spent working at the

303Triathlon snow cone station

. After that, I focused on finish line coverage. That's my favorite (aside from smiling.) It's always great seeing people finish their first or fifteenth IRONMAN! Frankie, my physical therapist, was a first timer! And with my media access, I was able to catch him in the finish chute and walk him through to get him to his support crew.
From the recovery perspective, I'm still working on getting my range of motion back. I'm close to full extension, but not quite there yet. My flexion is steadily improving, too, but right now the extension is what I really need to get back. Especially because my orthopedic doc said no riding my bike outside until I get full extension! This is certainly a process. I'm not sure what I expected, but it is absolutely hard work.
I am out of the sling and have been cleared to run and swim. I did a short run recently that went well. I will have to ease myself into running again to avoid doing too much too soon. I have also been cleared to swim, though as I write this I haven't been to the pool yet to swim for real. I've done some kicking over the last couple weeks, but now it's time to test out that swim stroke. With the muscle atrophy and still incomplete range of motion, I'm sure my first swim will be interesting to say the least!
What's next?
I'm back coaching high school cross-country for the next twelve weeks or so. This will be my fourth year at Discovery Canyon Campus High School. It's always a nice change of pace and a great time to work with the kids there.
I'm volunteering at the Rocky Mountain Women's Film Institute's Wheel to Reel event on August 20th. It gets people out on bikes on a local trail/bike path and then back to the Fine Arts Center to watch an independent film. I love the Colorado Springs community, so I give back to events when I can.
Labor Day Weekend I'll be in Bentonville, AR for the TriFest for MS. While my initial plan was to race the TriFesta (Complete the sprint, super sprint, and Olympic distance races), the broken elbow got in the way. Instead of staying home, I will still go out and volunteer. Cool thing to note; the first ever Hawaii Ironman winner, Gordon Haller, will be there helping out as well.
I'm hoping my next update will be that I have full range of motion in my elbow and that I'm outside on my bike again!