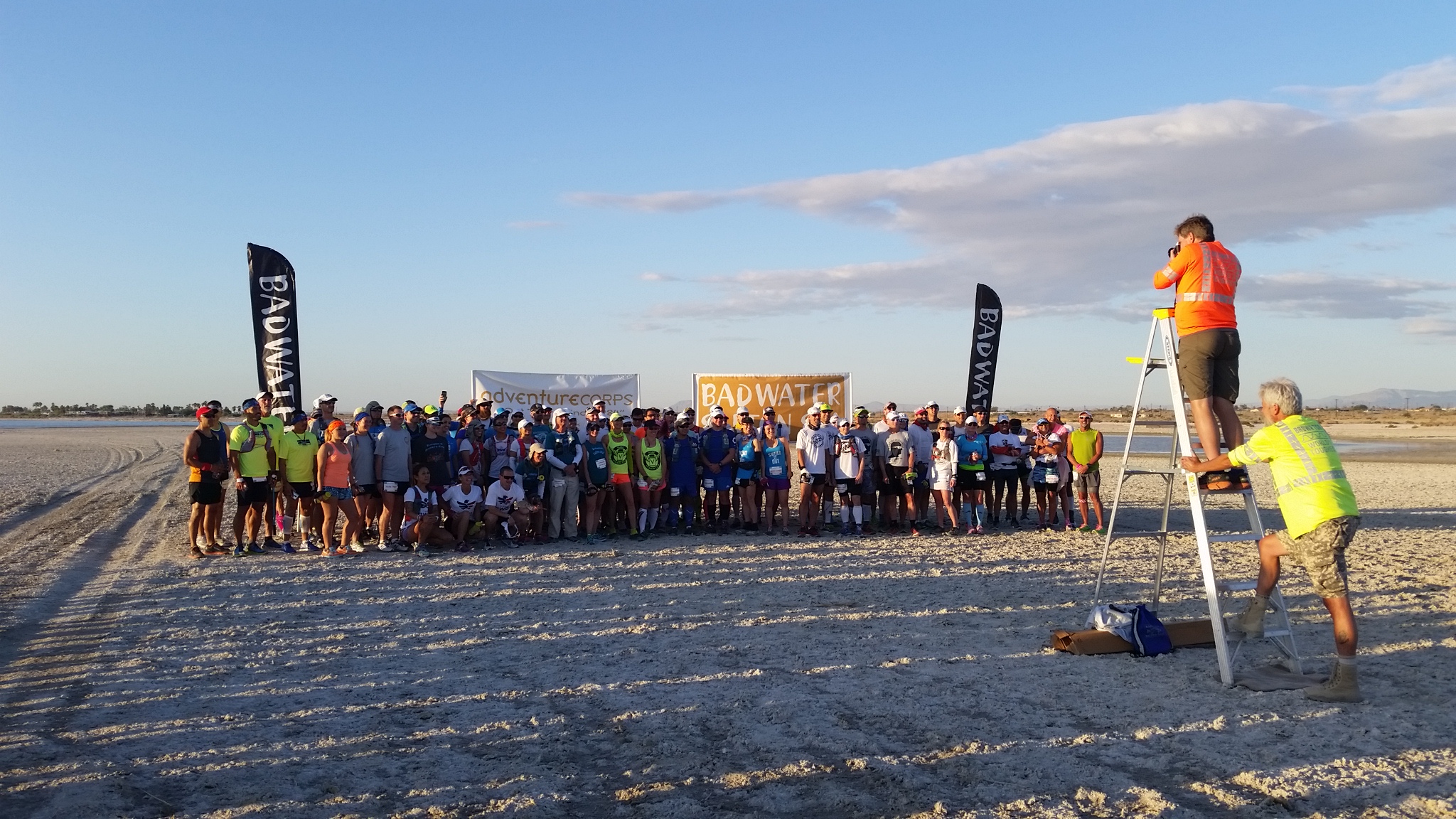 May
10
2016
Badwater Salton Sea Crew Report – Part 2:
In the last post I told you about our travel to the race and settling in. You can read Part 1 here.
Sunday, May 1 – Race Day!
Our goal as crew was to get Rodney and Sandra from the start at Salton Sea safely to the finish line on Palomar Mountain before the 28 hour cut-off. Rodney and Sandra were ready on time, I checked out of the hotel, and we left the Borrego Springs Resort with a long line of minivans and headed to Salton City.
The Salton City am-pm gas station/convenience store was a little overwhelmed and a few of the employees didn't realize a race was starting nearby! For the runners, this would be their last stop at a real bathroom until they got back around mile 7 of the event. (We later learned ultrarunners are not the modest type and will just go when/where they need to!) We made a pit stop and then continued down the bumpy roads of the town to the start line. Rodney and Sandra checked in, got weighed, got their Spot Tracker for the live race tracking  (cool feature this year!) and we walked down to the actual start. About 90 runners lined up, with the crews and a few spectators were off to the side. The national anthem was played. Chris Kostman, the race director, took a slew of photos and video, and then without much additional fanfare, counted down the start. They were off to the races at a very comfortable pace!
Once the runners were clear of the beach road, the crews drove back to the gas station and set up the first support stop. The first seven miles of the race were unsupported so we had time to get ice, breakfast, and re-organize the van a little bit. Rodney and Sandra showed up pretty much right on schedule. We filled up their bottles, gave them some snacks and off they went to into the desert on the road back to Borrego Springs.
While waiting about 30 minutes before heading up the road, we bought a few more containers at the Family Dollar store. The more organized the better! Plastic bags are not a good way to organize a crew van, as things easily get lost. And label everything!
It didn't take long to get settled into our routine. Drive up slightly ahead of the runners then as they arrived at the van, make sure they have what they want and need, wait about 25-30 minutes, drive up the road and meet them again.
The first check-point was around mile 14, and we were noticing a bit of a limp in Rodney's gate. His foot was bothering him. We were hoping it was just one of those pains that would eventually go away, but it kept getting worse and he was forced to walk quite a bit. Due to the team rule of having to stay within about 25 meters of your teammate(s), Sandra was walking, too. We shortened up the time between stops, but around mile 22, Rodney made a really tough call, gave Sandra a hug, and got in the van and let Sandra go after it. His foot just wasn't getting better and his hip was tightening up due to compensation.
In these events all sorts of "freak" things can happen so DNFs in ultra-runs are quite common. Even the most experienced ultra-runners can have issues that cause them to drop out of a race. Several teams were also split before the second checkpoint. Rodney had recovered well from the 50k at Badwater Cape Fear in March, so it was definitely an extremely difficult decision to make–but to keep a longer-term injury at bay, it was the right call.
We got a bucket of ice for his foot so he could start treating it.
And now we all knew that it was time to focus on getting Sandra to the finish on the mountain– wait, drive, service. Wait, drive, service. This year we were better at making sure we were there for the turns! We were closer to other teams as well so I don't think she felt quite so all alone out there without her teammate. And in typical Sandra style she started passing people…
Sandra made it to the next checkpoint at the Borrego Springs resort where she changed clothes, used a real bathroom…and we made sure she was feeling good. It was about 5 more miles to the trailhead. While she made her way through town, we did too. We stopped off at liquor/convenience store and got more ice and we cooled off with some ice cream.
We then guided her to the trailhead. She was there well before the cut-off to get on the trail so we made sure she had fluids, a couple sandwiches, salt pills, and her jacket, gloves, and hat. The afternoon storms were coming through and it'd be substantially cooler and near sunset when she hit the top of the trail. For the next four hours (8 miles and 3500 feet of elevation gain) she'd be unsupported by crew.
After she went off on the trail, we drove an hour to our post-race hotel (Harrah's) so we could check in. This hotel is less than 30 minutes from the finish, so we'd have a place to go after she finished and to hopefully catch some Zs before the post-race brunch on Monday.
We checked into the smoky casino hotel, took a quick shower and then headed to the top of the trail outside Ranchita. We were there in plenty of time, and had about 45 minutes before she came up the hill with a few guys from another team. She had dealt with some nausea and a quad cramp on the trail, but the guys she was with helped her with the quad and she was able to eat a cup-o-noodles at the van, so we got her gear situated and sent her on her way.
Shortly past the top of the trail is the 4th check-point at the Montezuma market in Ranchita, home of the Yeti (Rancheti!) Which is a little creepy at night…
We got her some soup, swapped out her hydration packs, and got her on her way. She was good for 30 minute intervals until we got to the base of Palomar Mountain. When she got to the turn to go up the mountain, it's the middle of the night and a little spooky as you are running right next to the woods, so at her request we stopped every 15 minutes to keep an eye on her.
Our routine changed slightly at this point. Khem would "rest her eyes," Rodney slept in the back, so I would wake Khem up a minute or so before we had to drive up the road. (Note–to wake Khem up, tap her shoulder, don't poke her ribs or elbows may fly.) Then when we got where we needed to be, I'd hop out, see what Sandra needed, yell back to the car if I needed something from Rodney or Khem to help. Then we'd wait another 15 minutes and repeat.
We kept up this pattern until the last couple miles were there are a few turns, and just made sure she was on course. At this point she was still passing teams, and a lot of the teams in front of her were mostly just walking.
Sandra's parents were already at the finish line and we all watched her cross the finish line tape in the garage at the house that was race headquarters.
Except for a few rain showers, the weather was really good compared to previous years. It was cool but not crazy cold going up the mountain, and it was clear – no fog.
Sandra had a general goal of 22 hours, and was officially in at 20:47.
As a crew, we learned more about how we can be organized and work together to support Sandra in July when she tackles the famous Badwater 135 ultra run through Death Valley. Rodney is crew chief for that event, and he'll be glad he can "boss us around" this time!
We're all looking forward to working together again to help someone achieve something extremely impressive.