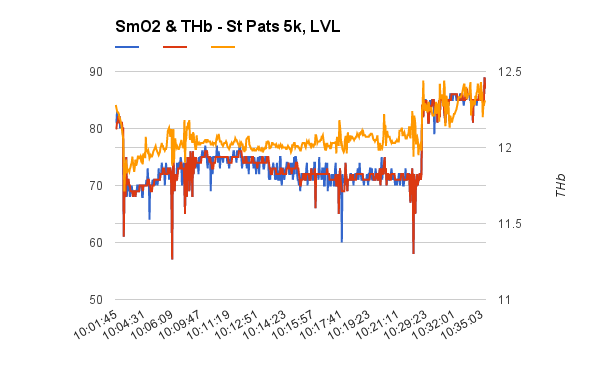 Mar
15
2016
5k on St. Patrick's Day Race Report – 2016
The 5k on St. Patrick's Day is my favorite 5k.. I've run this race since about 2008, missing only 2012 as I was in LA for the LA Marathon. Even when I couldn't run in 2014 due to hip surgery, I walked the race. It's one of the few relatively flat 5ks here in Colorado Springs so it serves as my early season running benchmark. It's a popular race, a lot of folks dress up and then stay for the local parade.
As I'm not training for 5ks (Syracuse 70.3 is my A-race), it was a "let's just see what I have" kind of race. I had a plan (I always have a race plan, regardless of the race!) and stuck to it, mostly! Race morning was pretty straightforward – I had my shoe tag chip and my bib already from the expo the day before, so I just had to show up at the starting line.
Breakfast was pretty standard – oatmeal with protein powder (probably a 1.5:1 CHO-PRO ratio), some blueberries and walnuts, and plenty of water. I skip coffee on race mornings. I mixed up some UCAN to have in the 45 minutes or so before the start, and drove the 20 minutes downtown. I parked about seven blocks away to force additional warm-up and cool down. I left my phone in my car this time, so I didn't get any pictures this year.
I wasn't feeling the best in terms of running legs – things just felt a little stiff and my right hip was a bit tight. But I jogged a bit, did some dynamic warm-ups, did the lunge matrix and also some pick-ups. The race was supposed to start at 10am, and I lined up around 9:55 or so. At the very front were the super fast guys and gals, and then behind them it was just a mix of abilities, so I didn't start too far back.
Here's a video of the start. I'm hidden in there.

Mile 1: 8:07. A little fast, but you never know – it was slightly downhill and that is a strength of mine. I got into a good breathing rhythm and was just focused. I counted to 4, over and over, and kept my eye on someone who was just a little faster than I was.
Mile 2: 8:27 I slowed down more than I had hoped – last year I was able to hold pace. The terrain is slightly uphill and looking at my HR data, I hit 167, which is up there near as high as I can get it these days. I just tried to keep my turnover going and take steady breaths.
Mile 3: 8:26 This mile has a few 180 degree turns in it, but also it finishes downhill. It's all mental at this point. My body probably felt as good as it could, other than heavy legs! I tend to lose a few spots in the final 400m, as I have very little finishing sprint and that has not been a part of my training.
Finish: 25:35, 16/143 (quite respectable in this town!)
Above is my HR/pace data from my Garmin and below the muscle oxygen data from a Moxy Monitor. I think the peak in pace about 4-5 minutes in is just a GPS glitch due to some tall buildings downtown.
Data begins just prior to the start, the drop in the graph is when I start running. Looking at the general trend, after that initial drop there is an increase in SmO2 as my muscles warmed up a bit. It settled in about 10 minutes in, and then slowly dropped a bit (I was feeling heavy legs at this point!) and placing a pretty big demand on the legs. What's interesting is that I ended in a steady state, but definitely didn't feel like I wanted to run farther at this pace!
The immediate jump is at the end of the race where I walked and jogged for a few minutes. With the cool down pace I have less of a demand for oxygen but my heart rate is still elevated and the muscles "warm" (rather hot) so there is plenty of oxygen getting delivered, hence the jump. I'm digging in a little more into the hemoglobin data in another software program, but that's another post!