2014 Goals and How To Achieve Success
Sorry for the bit of delay in posts, but wow – recovering from surgery, even a "short" one knocked me out a bit. I spent the majority of the last week sleeping or in a bit of a fog due to the medications.  But I'm on the upswing and feeling a lot more like myself! Recovery will be a bit of a long road, but I will definitely be well recovered by my Spring Triathlon Camp in Marin County, CA. I've already started physical therapy, am not in very much pain, and know that having gone into surgery strong and healthy is going to be a huge benefit during my recovery process.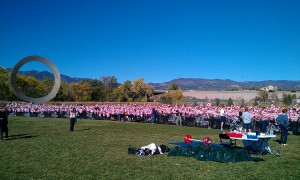 So let's talk goals. Sunday, October 27th was the 2nd annual Waldo Waldo. Coordinated by elope and UpaDowna, the goal was to have as many people as possible dressed in a Waldo or Wenda costume (included in the registration fee) and then run or walk a 5k to raise money for non-profits that help with help with fire and flood restoration that we've had here. While they didn't reach the world record, there were still about 2500 Waldos!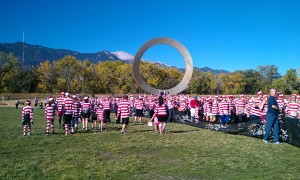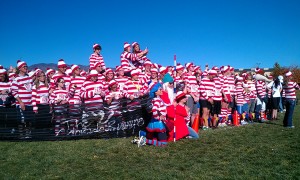 I had signed up to be part of the expo as an exhibitor at the event to help share with the community a little more about what I do. So I brought a tent and some NEO Endurance & TrainingPeaks gear to "spruce" up the tent a little bit. My warm cycling jacket was perfect for the morning with the frost on the ground. And of course I had my Waldo hat from last year's event to blend in.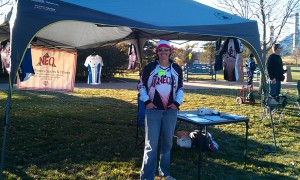 Slowly the hordes of Waldos started showing up and wandering around checking out the expo. The venue was America the Beautiful Park (home of the "stargate") with a gently snow-frosted Pikes Peak in the background and with our crisp and clear blue skies, it was a fabulous morning to see thousands of people of ALL ages decked out in red and white stripes.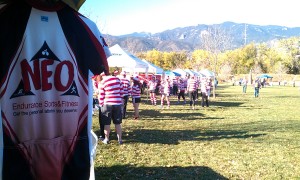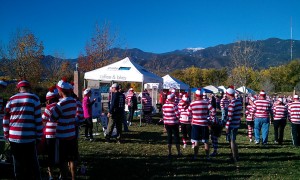 This was an event to bring people together, so while some ran fast, most of the people were just out there to walk, jog, but not necessarily PR, or even "race." So when engaging people walking by my booth, I explained I was a coach, but really tried to get them to talk to me about their 2014 goals. I didn't care if they were sport related or life related, but the spark in people's eyes when then think about what they want to achieve is wonderful to see. As a coach, my job is to help people achieve their goals by giving them structure, guidance, and accountability.
You don't need to wait until December 31st or January 1st to think about next year's goals.
On my table was a little notebook where I had people write their 2014 goals. Here are some of them:
Race cyclocross. (this one was mine to get things started)
To run a half-marathon
To run the Slacker half-marathon
Lose all the baby weight
To run the full Nike marathon in San Francisco
Do the Spartan Race Trifecta
Run an 8-minute mile
Swim in open water without panic
To weigh below 200lbs
Under 14-hours for the 2014 Boulder Ironman
Not to find any more cancer.
I wish the best for the person affected by cancer. That can't be easy to deal with. It's also a reason I continue to coach for Team In Training. (And a quick plug…we're currently recruiting for our spring season starting in a couple weeks. Anyone want to go to Hawaii for the Lavaman Triathlon?)
It makes sense that these are mostly health or athletic related goals, as we were at a 5k event. But just setting a goal is not enough. You need to have action. So going back to my Taekwondo days under Olympian Barb Kunkel, here are the 6 Rules Of Success. You can apply them to all aspects of life.
Know what you want.

Have a plan.

Have a coach.

Take continuous action.

Review your goals.

Renew your plan.
So start thinking about your 2014 goals. What do you want and what is your plan? Who will coach you through the process or who is/are the person/people you will rely on to answer your questions or provide guidance? Keep working towards your goals each day, and review them to make sure they are appropriate. Renew your plan every so often to stay on track.
And most of all, enjoy the journey! It won't be easy, but it will be worth it!
I'll leave you with some video that PikesPeakSports.us took of the Waldo Waldo.